The new report includes targets, set in 2012, for emission reductions to be met by 2020, which are as follows: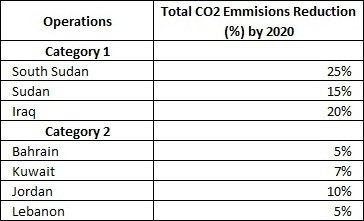 Other achievements highlighted and disclosed in the latest report include, but are not limited to:
In 2012, a total of 83 battery hybrid and nine solar hybrid solutions were deployed across Zain's operations.
A total of 4,500 handsets were recycled in Bahrain between 2011 and 2012 through the organization's Handset Recycling initiative.
Site-sharing was also implemented in 237 base stations across Saudi Arabia, Kuwait, Sudan, Jordan and Bahrain in 2012.
104 managers participated in Jordan's Zain Al Khair Fund, a volunteer, employee-based initiative that provided Zain managers with the opportunity to donate money and support 92 families through the establishment of sustainable businesses.
200 thousand students in seven states in the Republic of Sudan have benefited from the Back to School program.
More than 118 thousand people (including about 65 thousand students) enrolled in the e-learning program Taaleb powered by Zain Kuwait.
Children's Museum hosted Mobile Jordan for more than 45 thousand children from rural communities in the year 2012.
Zain initiative to bring clean water to villages in the Red Sea state in the Republic of Sudan, benefited approximately 1.5 million people in the year 2012.
Click here to read/download the Full Report.
Source: Zain.
About Zain Group
Zain is a leading telecommunications operator across the Middle East and Africa providing mobile voice and data services to over 44.4 million active customers as of 30 June 2013. With a commercial presence in 8 countries, Zain operates in Kuwait, Bahrain, Iraq, Jordan, Saudi Arabia, Sudan and South Sudan. In Lebanon, the Group manages 'touch' on behalf of the government. In Morocco, Zain has a 15.5% stake in Wana Telecom, now branded 'INWI', through a joint venture. Zain is listed on the Kuwait Stock Exchange (stock ticker: ZAIN). For more information, visit www.zain.com.