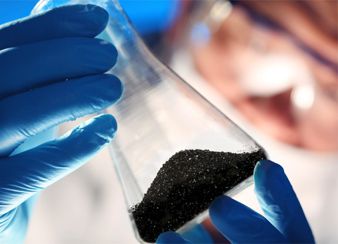 Pittsburgh, Pennsylvania – Calgon Carbon Corporation (NYSE:CCC) in May released its inaugural Sustainability Report, "Pure Water. Clean Air. Better World". The report highlights the various environmental stewardship and social responsibility initiatives the company advanced in 2013 and establishes benchmarks and baseline metrics for ongoing, long-term sustainability goals.
Calgon Carbon is a global leader in innovative solutions, high quality products and services designed to protect human health and the environment from harmful contaminants in water and air. As a leading manufacturer of activated carbon, with broad capabilities in ultraviolet light disinfection, Calgon Carbon provides purification solutions for drinking water, wastewater, pollution abatement, and a variety of industrial and commercial manufacturing processes.
The published report is available online and discusses specific information relative to Calgon Carbon's primary focus areas, which include:
Environmental Stewardship
Enhancing our Workplace
Community Support
Products & Life Cycle
"Sustainability is a vital part of our business strategy both now and for the future. Our first-ever Sustainability Report shares our commitment to managing our company in an economically, environmentally and socially responsible manner, and identifies how we will achieve our objectives going forward," said Randy Dearth, Chairman, President and Chief Executive Officer, Calgon Carbon Corporation.
According to Dearth, the company's first Sustainability Report has energized the effort to integrate environmental, social and economic considerations into its operations and decision making processes at every level of the organization and demonstrates the company's commitment to:
Developing a framework for how the company will identify, assess and advance sustainability objectives
Establishing sustainability benchmarks and setting the foundation for metrics and reporting
Affirming the company's commitment to the American Chemistry Council's Responsible Care Initiative, which is itself a commitment to sustainably managing business
Building consideration of environmental, social and economic concerns into projects and initiatives

Commitment to Environmental Stewardship
Calgon Carbon conducted a review of its operations to identify material environmental aspects, which established areas where the company could have significant impact, including raw materials, water, effluents and waste, energy, and emissions.
"After taking this first step to measure baseline performance in these areas, our focus will be to continue identifying where we can reduce risks and liabilities and where we can find opportunities for development, innovation, and improvement," said Abby Rubright, Calgon Carbon Sustainability & EHS Program Specialist. "This evaluation process will be the foundation of setting long-term goals and objectives to continuously improve our environmental stewardship."
According to Rubright, the company recognizes the need to ensure that it is adequately managing its environmental impact, which will be accomplished by routinely evaluating and refining company's approach, including:
Defining a formalized shareholder and stakeholder feedback assessment process
Continuing to perform environmental and safety audits
Continuing to collect and evaluate performance metrics
Using performance measurements to benchmark the Company within the industry in an open and transparent manner

Key Highlights of the Sustainability Report
Raw Material and Waste to Feedstock – Measuring raw material usage so the company can assess production yields and determine what process improvements are necessary. For example, the company's Pearl River, Mississippi facility evaluated options to recycle and reuse particulate carbon fines, which are a byproduct of the activated carbon production process. Until recently, the fines were captured and sent for use as fuel at a cement manufacturing facility. Testing and analysis identified the carbon fines as suitable feedstock for specific products manufactured at the Company's Big Sandy facility in Catlettsburg, Kentucky.