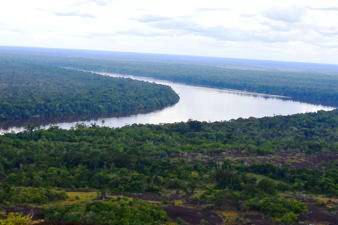 Colombia – One of the most important wetlands in the world will now be protected from mining threats after it was declared internationally valued following an announcement by the President of Colombia, Juan Manuel Santos.
The Inirida Fluvial Star located in eastern Colombia is one of the most biologically diverse areas of the world and will now benefit from international protection after it was declared Colombia's sixth RAMSAR site.
The protection of this area, home to the third most important river system on the planet, has taken a decade to come and will prevent extractive industries moving in to mine for potential gold and cobalt reserves.
"This is a significant achievement for both Colombia and the world and a clear statement to support conservation as an option to support economic and social development," said Director of WWF-Colombia, Mary Lou Higgins.
The area covers over 250,000 hectares and is a mosaic of jungle, savannahs and includes a network of rivers and wetlands. It is home to more than 900 plants species, 400 birds, 470 fish, 200 mammals, and 40 amphibians including threatened species such as river dolphins, jaguars and tapirs.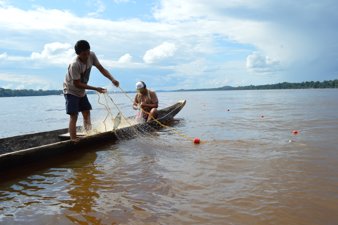 The new RAMSAR site is located in the Orinoco river basin conserving an important freshwater area in the frontier region with Venezuela, and includes the confluence of four different river systems making it a vital fishing region for both Colombia and Venezuela.
It's the main source for Venezuela's fisheries and is also known for its aquarium fishes with 40 percent of the aquarium fishes that Colombia exports come from the Fluvial Star of Inirida. WWF-Colombia is working with fisheries management in the region, promoting sustainable fishing practices.
President Santos affirmed in his declaration speech that protecting the environment was a priority for the country and that his government could not fail in that purpose. The President recognized that even though his government conceived mining as one of the engines for development, there were biologically and culturally valuable places where mining should not take place.
"The Fluvial Star of Inirida establishes a benchmark to begin to rethink the development model based on conservation," said Ms. Higgins.
The President recognized the efforts of WWF, who have been working with local authorities, the Ministry of Environment and Sustainable Development, local communities and the Ramsar Secretariat to realize this designation.
WWF-Colombia has supported research projects aimed at gaining further understanding of ecological and hydrological dynamics within the region and has backed local and regional grassroot organisations, providing technical and organisational support.
RAMSAR is an international conservation designation, which protects places renowned for their biological diversity and their freshwater ecosystem richness.
Source: WWF.