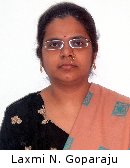 "Every creature is better alive than dead, men and moose and pine trees, and he who understands it aright will rather preserve its life than destroy it."
– Henry David Thoreau
from 'Chesuncook', The Maine Woods, 1848.
These lines spread the message to preserve and protect all life-forms – including forests. Since ages, people in India have been culturally sensitized to follow the same ideals. But why we are not able to do so now? Dr. Laxmi N. Goparaju – Expert on Forest & Ecology Issues for ThinktoSustain.com – analyses the current situation of forests in India, and gives forth some suggestions.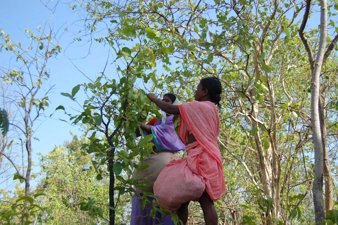 Caught between the seemingly conflicting goals of conservation and development, and pressurized to provide for the world's teeming millions, we have taken a lopsided approach that has promoted industrialization and urbanization across the globe, and has led to massive destruction of forest cover. The delicate balance in our fragile ecosystems has been disturbed. The past decade has witnessed a much more rapid depletion of forests worldwide than in previous decades. In fact, we are losing forest land at an alarming rate of 50 soccer fields per minute round the globe (1)!
The world's largest remaining forests are vested in the Amazon Basin, the Congo basin, the tropical forests of Indonesia, and the vast boreal forests of Russia and Canada. Over 30% of the forest land is under use by local and indigenous peoples whose survival is based on its existence. Still, 73% of forests are controlled by governments (2). While many nations appear to be struggling to put their best efforts to protect their forest cover, the loss of green cover that gets reported is in fact disturbing. Many factors are responsible for leaving behind a trail of disaster and devastation.
Illegal logging is the prime culprit and has been responsible for conversion of large contiguous forests into several small fragmented patches. Up to 10%, or about $7 billion, of the global wood supply is sourced illegally from forests violating national laws and international agreements (3).
Stripes of pristine forests in Guatemala and Honduras are being cleared to facilitate the transportation of illegal drugs (4). Malaysia has lost around 4.7 million hectares of tree cover from 2000-2012, attributed majorly to the rampant expansion of palm oil plantations to meet the ever-growing demands from companies like Nestlé and P&G. Stories of deforestation in Indonesia are equally alarming.
Mining and mineral extraction have been other central activities surrounding all major inland and offshore industrial projects – like thermal power plants, steel plants, bauxite mining, coal projects, oil and gas exploration projects. Unfortunately, in India, most of the minerals are located in densely forested areas. Mining in such areas poses a threat to wildlife and biodiversity. Forest land diversions being made by the Indian government to facilitate industrial growth are accentuating the loss of forest cover and change in bio-geochemical cycles.
In the last four years, India has diverted 200,000 hectares of forest land, which is said to be the double of the clearance given by the government in last three decades (5).
How can people participate in saving forests in India?
The role of forests in sustaining life is well known. More than one billion people survive on forests which also provide many ecosystem services. Awareness among people to protect forests is on the rise. People are realizing and taking efforts to restore green cover. Supported by new environmental laws that favor their cause, peoples' participation has become more structured.
Tribal and indigenous peoples make a living on forest produce. In fact, they are the original saviors of natural resources and have moral and ethical rights. There are many instances where peoples' voice has been heard and this has helped in preserving forest cover.
Learning from the Past and Present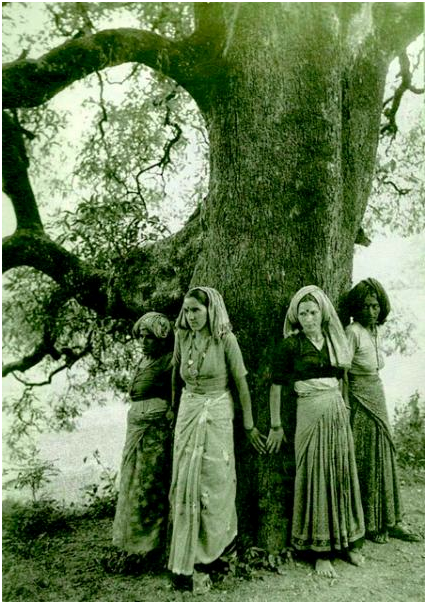 Saving Trees: Chipko Movement, that started in India in the early 1970s, was an effort to save trees and forests from felling by forest contractors. The protectors were a group of women form Reni village Hemwalghati in Garhwal hills of present day state of Uttarakhand. The revolution gained momentum in 1980s and spread to parts of Vindhyas and Western Ghats of India. Now, under the leadership of Sunderlal Bahuguna – a noted Garhwali environmentalist and follower of Mahatma Gandhi's philosophy of Non-violence and Satyagraha – the movement is still being practiced. It influenced the government to enact legislation to protect trees. This movement has been a source of inspiration since then and has motivated similar efforts across the country.
Fight Against Desertification: The forest ranges of Kalyandurgam, Kadiri and Penukonda, in Anantapur district in the state of Andhra Pradesh, India, have been facing the wrath of desertification since years. Desertification is caused by many factors – deforestation, over grazing, over cultivation, logging, and increase in population, industrialization and poor land use practices. The Kalyandurgam, Kadiri and Penukonda forest ranges were on the verge of desertification, but the scenario was transformed by the state forest department along with the help of locals within two years. Now, there is 300 hectares of land blooming into a green landscape (6). Inclusion of indigenous trees like Neem (Azadiracta Indica), Banyan (Ficus benghalensis) and Peepal (Ficus religiosa), besides Holeptilia, has given good results of 100% survival and has also lowered the cost of maintenance.
Promoting Eco-feminism: In a unique effort by the people of Piplantri village in southern Rajasthan, India, eco-feminism is being practiced (7). In Piplantri village, the village panchayat, anganwadi members and school principals support the birth of a female child by planting 111 trees on the occasion. They also ensure that they grow to a fruitful stage. They also prohibit open grazing of animals and cutting of trees.
Legal Fight for Forest Rights: In April 2013, through a landmark judgment from the Supreme Court of India, the rights of indigenous peoples of Dongria Kondh tribe of Niyamgiri hills in the state of Odisha, India, were protected. Their religious and cultural rights were given preference over the business interests of UK-based company Vedanta Resources to mine in their forests. The tribals courageously stood and did not allow the mining giant to encroach on their forests.