A remarkably high number of sustainability reports are being published annually by South African companies. An analysis of data on sustainability reports  maintained by the Global Reporting Initiative (GRI) shows that during 2011-2013 more than 300 companies had published sustainability reports.
This trend puts South Africa at the second top-most position when compared to developed nations – the U. S., Japan, U. K., Australia, Canada and emerging economies – China, India and Brazil.
In fact, South African companies happen to be far ahead in sustainability reporting when compared to companies from other emerging economies. This is surprising as emerging economies are more prone to suffer from improperly regulated capital markets and weak legal mechanisms. Environmental and social concerns often take a backseat as the pressure to increase foreign investments to boost economic growth dominates both the business and the political agenda. Environmental regulation is often considered as an obstacle to development and concessions are traded to attract and develop business.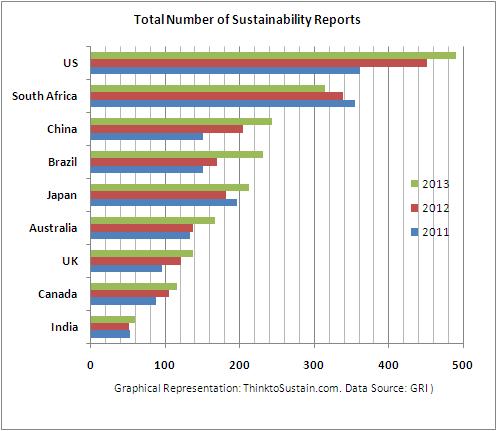 But South Africa presents a different story.
1994
Its journey on sustainability began in 1994 – a year that was economically, socially and politically challenging. In 1994, after decades of racial discrimination, an independent South Africa was set to place its first-ever democratically elected government. Despite these uncertainties, the new government took bold initiatives to develop guidelines on how the country should manage its economy. The overarching emphasis was on corporate governance and sustainability was a part of it.
A committee, known as the King Committee, named after its Chair Judge Mervyn King, was constituted to lay out the road map to ensure that development was achieved without compromising economic, social and environmental aspects. In 1994, the King Report on Corporate Governance (also known as King I) formally laid the responsibility of corporate governance of publicly owned companies on their boards of directors.
The recommendations of King I Report dealt with the financial and ethical dimensions of corporate governance. It was a guidance to companies to be transparent in both financial and non-financial aspects of business which can impact not only shareholders financially but also the communities at large. It requested the boards of companies to develop, publish and enforce codes of ethics.
2002
By 2002, a need was felt to align corporate governance goals with changed realities that confronted the world, especially in terms of sustainability. King II report was released in 2002 which coincided with the Earth Summit held at Johannesburg the same year. Besides broadening its reach to include government departments, King II report included a separate section (Sec 5.0 – Integrated Sustainability Reporting) on sustainability that laid the foundation for sustainability reporting.
The purpose of including a separate section on sustainability in King II report was to encourage an inclusive approach to sustainability (as the section title itself conveyed) and it was not mandatory. However, the application of these guidelines varied across companies. The Johannesburg Stock Exchange (JSE) also used some of the guidelines as listing requirements. Many companies started producing sustainability reports but they were not integrated with financial reporting.
2009
The 2008 meltdown had reinforced the role of corporate governance and pushed business sustainability to the center. Interestingly, King III report was launched on 1st September 2009 at a time when the aftermath of the global financial crisis was in its full swing. King III emphasized the need to have an integrated approach towards the economic, social and environmental impacts of business. It further expanded the scope of corporate governance by incorporating leadership, sustainability and corporate citizenship in its core philosophy. It adopted an 'adopt' or 'explain' approach, meaning that companies that do not adopt the code need to explain reasons thereof.
In 2009 and 2010, the number of sustainability reports published by South African companies stood at 55 and 61, respectively. In 2011, the JSE  made disclosures on integrated sustainability reporting mandatory. That year, out of 450 companies listed on the JSE, 355 companies published their sustainability reports – which constituted nearly 80% of the total number of companies listed on the JSE.
This action by the JSE does seem to have had a positive impact on the number of companies reporting on sustainability but raises a few questions. Should sustainability reporting via the "adopt" or "explain" rule  be made mandatory or should it be kept as a voluntary initiative? It is believed that in a voluntary situation, companies would be free to adopt sustainability principles and would exercise their entrepreneurial skills to derive optimum value. Also, the markets would be able to factor in the demand for information on companies' sustainability performance. When sustainability reporting is made mandatory, companies are more prone to treat it as just another compliance instrument.
But whether sustainability reporting should be voluntarily driven or mandatorily imposed remains a debatable topic.
South Africa has a long way to go. Nevertheless, the country has a sound foundation with relevant guidelines formulated and modified at the most appropriate times in history. And when the notion of sustainability comes under the overall mechanism of corporate governance, it makes more sense.
Written by the Editorial Team at ThinktoSustain.com If you have any views, similar or divergent, do write to us at editor@thinktosustain.com