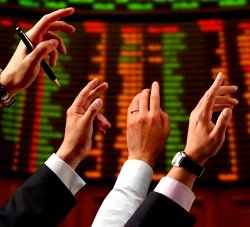 Geneva – A study has revealed that only three per cent of the world's largest listed companies* report on all basic sustainability metrics.
In their third annual study, "Measuring Sustainability Disclosure: Ranking the World's Stock Exchanges", investment advisory and research firm Corporate Knights Capital, researched how well global stock exchanges encourage listed companies to disclose basic corporate responsibility data.
Corporate Knights Capital analyzed the extent to which the world's publicly traded companies are disclosing the seven basic 'first-generation' metrics; employee turnover, energy, greenhouse gas emissions, injury rate, payroll, water consumption, and waste.
Just over a third of large listed companies (39%) report on the amount of greenhouse gases they are emitting, but only a quarter disclose their water consumption (25%) and just 12 per cent report on their rate of employee turnover.
The study also found that although the number of large companies disclosing basic sustainability indicators is increasing, but the rate of uptake is flatlining. For example, the percentage of large listed companies who disclosed their energy use increased by 88 per cent from 2008 to 2012 but only by five per cent from 2011 to 2012. There is a similar slowdown in reporting occurring on the other sustainability indicators.
The study ranks the world's stock exchanges on sustainability reporting performance. It reveals that:
The Helsinki Stock Exchange was the top-ranked exchange, moving up from second position in last year's assessment
The Euronext Amsterdam took second spot, followed by the Johannesburg Stock Exchange, the only stock exchange in the top ten based in an emerging market
This was followed by Euronext Paris and the Copenhagen Stock Exchange. The London Stock Exchange is ranked ninth the largest exchange inside the top ten, climbing from eleventh place over the past three years
North American exchanges are noticeably absent.
Top 15 Stock Exchanges for 2014
Ranked on Sustainability Reporting Performance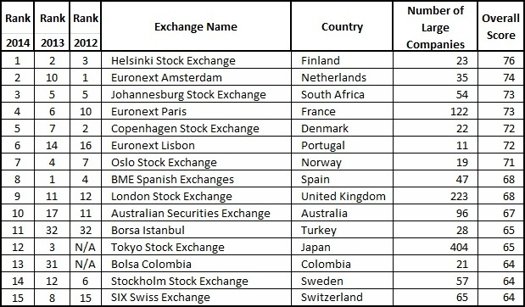 The study was prepared with the support of Aviva plc, Standard & Poor's Ratings Services and the Association of Chartered Certified Accountants (ACCA).
Commenting on the study's findings, Toby Heaps, Chief Executive at Corporate Knights Capital, said, "We urge policy-makers to encourage or mandate listed companies to measure and disclose their performance. The lack of corporate reporting on first generation indices is in stark contrast to the increasing demand for them from investors, community groups and NGOs, as well as the broader trend toward increased corporate transparency and accountability."
Mark Wilson, Group Chief Executive Officer at Aviva, said, "Policymakers need to take action but so does business. It's not good enough to wait to be told what to do. The value of this work speaks for itself. We all have a shared responsibility and a shared interest in seeing listed companies – and large listed companies in particular – measure and disclose how sustainably they are performing. This is about creating legacy – or as I put it, being a good ancestor. This is good for business and it's good for society."
Click here to read/download the Full Report.
Source: Corporate Knights Capital.
* World's largest listed companies with a market capitalization of at least US $ 2 billion.
About Corporate Knights Capital
Corporate Knights Capital is an investment advisory and research firm based in Toronto, Canada, with over a decade of experience quantifying corporate sustainability. Corporate Knights Capital is a global leader in building investment strategies that integrate high quality corporate sustainability data. In 2013, Corporate Knights Capital launched the world's first sustainable smart beta equity strategy. For more information, visit www.corporateknightscapital.com.