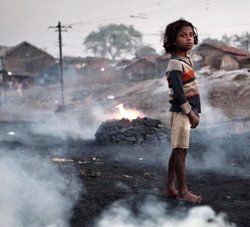 Warsaw – Coal is the single greatest source of CO2 emissions endangering our climate. Yet never before has so much coal been mined on the planet as today. Since 2000, global coal production has grown by 70% and has now reached a staggering 7.9 billion tons annually. And what's more, the industry is still expanding. Who on earth is financing the enormous production increases of the world's dirtiest fossil fuel?
The study, "Banking on Coal: Undermining Our Climate", published by the German environmental NGO Urgewald, the Polish Green Network, the international NGO network BankTrack and the CEE Bankwatch Network answers this question. From 2005 to mid-2013, 89 commercial banks poured a total of 118 billion euro into the coal mining industry. The lion's share of finance – 71% – was, however, provided by only 20 banks. Together, these banks financed enormous coal mine expansions around the world.
The three banks at top of the list are Citi (€7.29 billion), Morgan Stanley (€7.23 billion) and Bank of America (€6.56 billion). Also among the top 20 are Swiss, German, Chinese, British, French and Japanese banks. The authors investigated commercial lending to and investment banking services for 70 coal mining companies, which collectively account for 52% of global coal production.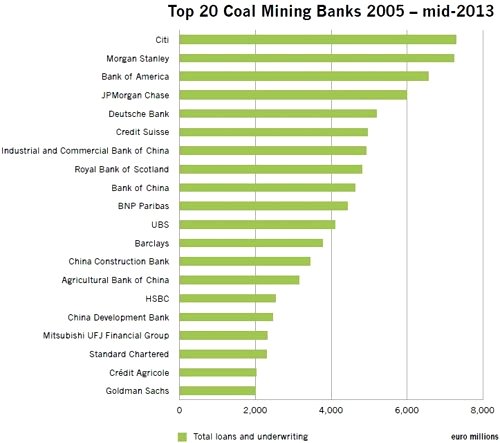 "The report is based on months of research," explains Heffa Schücking, Director of Urgewald. "While most banks publish figures on their annual investments in renewables, they don't really want to talk about the coal dust spilling out of their portfolios."
The authors also analyzed their data according to the banks' countries of origin and found that financial institutions from only three countries – the US, UK and China – collectively account for 57% of coal mining finance. "It's mind-boggling," says Schücking, "to see that less than two dozen banks from a handful of countries are putting us on a highway to hell when it comes to climate change. Big banks already showed that they can mess up the real economy. Now we're seeing that they can also push our climate over the brink."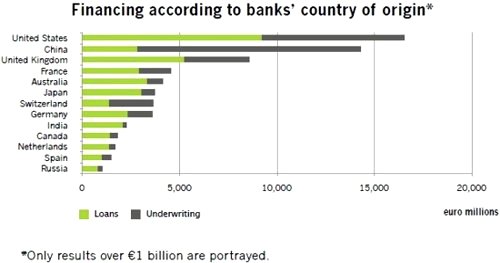 The research also shows that coal finance has increased tremendously over the past few years. Since 2005 – the year the Kyoto Protocol came into force – banks' financing for coal mining companies increased by 397%. "This is a real danger," says Kuba Gogolewski, of the CEE Bankwatch Network. "While policymakers are far too slow to regulate the mining and burning of coal, banks are speeding ahead with investments that are totally inconsistent with a stabilized climate."
The report also contrasts the investments of the top 20 banks with their own statements and policies on climate change. Yann Louvel of BankTrack, who analyzed these policies, comments, "It's as if banks have a split personality disorder." He points out that Bank of America claims to be "financing a low carbon economy"; Credit Suisse "cares for climate" and BNP Paribas thinks it is "combating climate change." Louvel says, "Banks finally need to face up to the real-world impacts of their financing decisions. When they finance companies that blow up mountain-tops or destroy jungles to extract coal, they have a responsibility for these impacts."