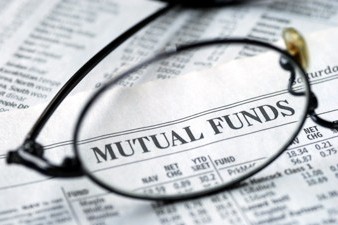 More U.S. mutual fund companies are acting to address the threat of climate change in their portfolios, with one-third of votes cast across 42 mutual fund families supporting climate-related shareholder resolutions on average in 2014, according to an analysis by the sustainability advocacy group, Ceres.
As shown in Figure 1, the 2014 proxy season saw one of the sharpest increases ever in support for climate-related resolutions in the past decade, with 11 fund groups – including GMO, John Hancock, Delaware and Oppenheimer – increasing their support for climate-related resolutions by 12 percent or more between 2013 and 2014. Morgan Stanley, for example, supported climate resolutions 70 percent of the time in 2014 – a shift from supporting only 13 percent in 2013.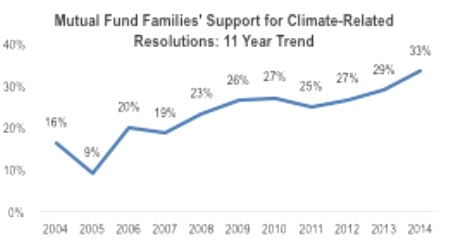 The analysis found that out of 42 fund families, 13 supported more than half of the climate-related resolutions that they voted on, and six supported at least 80 percent compared with only two in 2013. Deutsche Asset Management (DWS Funds) continued to lead – as in 2013, the company supported every climate-related resolution that it voted on in the 2014 proxy season.
Despite these positive trends, however, eight fund families failed to cast a single vote in support of a climate-related resolution in 2014, the most noteworthy being Vanguard. As a member of the Principles for Responsible Investment (PRI), Vanguard has publicly committed that: "We will be active owners and incorporate ESG [environmental, social and governance] issues into our ownership policies and practices;" and "We will seek appropriate disclosure on ESG issues by the entities in which we invest." Since many of the resolutions request exactly this type of disclosure – by seeking sustainability reports, for example – Vanguard is clearly failing to live up to its public commitments.
"An obvious and easy first step to protect investment portfolios from the mounting impacts of climate change and related issues is to vote for resolutions asking companies to disclose and mitigate those risks," said Rob Berridge, Director of Shareholder Engagement at Ceres. "It's encouraging that the mutual fund industry is moving in this direction, although there are still glaring exceptions."
The analysis found that Vanguard, one of the largest asset managers in the world, has failed to cast a single vote in support of a climate-related resolution in 11 years. Managing more than $2.4 trillion in assets and $1.2 trillion in U.S. securities, a vote from Vanguard could increase support for some resolutions by an estimated 2-4 percent – which, combined with votes from other large funds, can send a strong signal to companies to address climate change-related risks such as those associated with continued major spending to develop new fossil fuel reserves. Many climate scientists agree that roughly two-thirds of existing reserves need to stay in the ground – and not be burned – in order to avoid catastrophic global temperature increases.
"Climate change is one of the biggest economic threats facing the global economy, yet Vanguard is choosing to ignore the writing on the wall," said Mindy Lubber, President of Ceres and Director of its Investor Network on Climate Risk, a group of 110 investors managing $13 trillion in assets committed to addressing climate risks. "When a mutual fund fails to support a single shareholder resolution targeting those real financial risks, you've got to ask, 'what other financial risks are they missing'?"
The analysis, which examined more than 15,000 votes cast on climate resolutions by mutual funds in the 2014 proxy season, was commissioned by Ceres and conducted by Jackie Cook of Fund Votes. It found that the mutual funds surveyed were particularly likely to support resolutions calling for emissions-related disclosure and quantifiable greenhouse gas emissions reduction targets. These resolutions made three types of requests:
Prepare a sustainability report that includes greenhouse gas emissions reduction targets and goals.
Prepare a report reviewing policies, actions and plans to measure, disclose, mitigate, and set reduction targets for methane emissions.
Adopt quantitative goals for reducing greenhouse gas emissions.