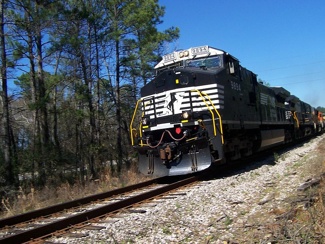 Norfolk, Virginia – Norfolk Southern Corporation details the railroad's ongoing efforts to contribute to a cleaner environment, a healthier economy, and stronger communities in its latest Sustainability Report – "Connections". The Company released the report in July at www.nscorp.com and www.nssustainability.com.
"From our earliest beginnings, our commitment always has been to deliver customers' freight safely, efficiently, and economically, and in doing so to provide fair returns to our shareholders and a desirable workplace for employees," said CEO Wick Moorman. "Today we understand that everything we do must respect the planet. We understand that environmental sustainability is smart business."
The company's seventh annual sustainability report discloses Norfolk Southern's environmental, economic, and social impacts to help stakeholders assess the railroad's performance in corporate responsibility. Key environmental performance areas covered include locomotive fuel efficiency and emissions, energy use, land and land conservation, waste management, and water conservation.
"Norfolk Southern strives for excellence in environmental stewardship, and our uncompromising commitment to sustainability is supported and leveraged by employees across our network," said Blair Wimbush, Vice President Real Estate and Corporate Sustainability Officer. "We are working hard to integrate sustainability into all aspects of operations, building on successes achieved over the past seven years."
Among 2013 NS achievements highlighted in the report:
Environmental Performance
Reached nearly 79 percent of a five-year goal launched in 2010 to reduce the company's greenhouse gas emissions by 10 percent per revenue ton-mile of freight.
Saved an estimated 10 million gallons of locomotive diesel fuel and avoided around 110,500 metric tons of greenhouse gas emissions through LEADER train-handling technology.
Completed 65 percent of a five-year, $5.6 million partnership begun in 2011 with GreenTrees® to reforest 10,000 acres in the Mississippi Delta, part of NS' Trees and Trains carbon mitigation initiative.
Collaborated with The Nature Conservancy in support of the largest ever longleaf pine reforestation effort in Virginia.
Economic Performance
Helped locate 67 new industries and expand 25 existing businesses, representing customer investment of $2.3 billion, 3,100 new customer jobs, and more than 136,000 new carloads of rail business.
Partnered with the South Carolina Ports Authority to make intermodal service available to a new inland port in Greer, South Carolina, resulting in rail business that will remove at least 20,000 trucks annually from I-26.
Opened regional intermodal facilities at Charlotte, North Carolina, and Greencastle, Pennsylvania, expanding freight rail capacity on the company's Crescent Corridor network and mitigating truck-traffic congestion on interstate highways from New Orleans, Louisiana, to northern New Jersey.
Social Performance
Reduced serious workplace injuries by more than 5 percent.
Hired more than 1,000 employees.
Distributed charitable donations of $12.8 million through combined Norfolk Southern Foundation and corporate giving, including grants to food banks, homeless shelters, free medical clinics, and environmental, cultural arts, and educational organizations.

Check the following link to read/download the Full Report:
http://nssustainability.com/2014_sustainability_report/index.html
Source: Norfolk Southern.
About Norfolk Southern
Norfolk Southern Corporation (NYSE: NSC) is one of the United States' premier transportation companies. Its Norfolk Southern Railway Company subsidiary operates approximately 20,000 route miles in 22 states and the District of Columbia, serves every major container port in the eastern United States, and provides efficient connections to other rail carriers. Norfolk Southern operates the most extensive intermodal network in the East and is a major transporter of coal, automotive, and industrial products. For more information, visit www.nscorp.com.