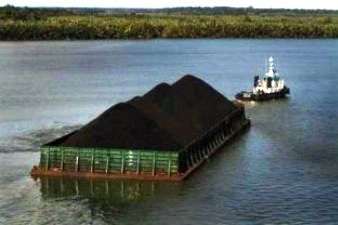 Jakarta – Almost half of all water bodies in the Indonesian province of South Kalimantan are at risk of being contaminated by coal mining waste, says a report released on December 3 by Greenpeace. 
The report, "Revealed: Coal Mines Polluting South Kalimantan's Water", details the findings of a nine-month Greenpeace investigation. It shows that hazardous waste from intensive, largely unregulated coal mining activities is contaminating the province's streams and rivers, in many cases breaching national standards for mine wastewater.
One third of South Kalimantan has been allocated to coal mining, posing a clear threat to the province's water quality [1]. Greenpeace found that hazardous discharges of acid mine waste containing iron, manganese and aluminium, among others, are reaching South Kalimantan's water bodies and surrounding environment. Around 3,000 km of South Kalimantan's rivers – almost 45% of the total – are downstream from coal mines.
"People in neighbouring and downstream communities are using potentially contaminated water to bathe, wash, and farm. They face unacceptable risks from coal mining activities. The government must act to safeguard their health and livelihood," said Arif Fiyanto, Greenpeace Indonesia Climate and Energy Campaigner.
Indonesia is the world's largest exporter of thermal coal and the second largest coal exporter overall. Over the last decade, more than 90% of Indonesia's coal production and exports have come from Kalimantan, the Indonesian part of Borneo. In addition to causing environmental problems, Kalimantan's coal export boom could add 460 million tonnes to global annual carbon emissions by 2020 [2], which would make a mockery of Indonesia's 2009 pledge to cut emissions by up to 41% by 2020.
In recent years, coal production has been growing fastest in South Kalimantan, which produced 33% of Indonesia's coal in 2011. As coal production has increased, so have the negative impacts on the province's people and environment.
Twenty-two of the 29 wastewater samples taken by Greenpeace from five coal mining concessions in South Kalimantan were found to be acidic (low pH), well below the standards set by the government. Discharges, leaks and spills from contaminated ponds in coal concessions pose grave dangers to nearby creeks, swamps, and rivers.
Greenpeace says that the mining companies who are profiting from these dirty and, in some cases, illegal operations have a responsibility to stop polluting the water resources that communities depend on. Companies found to be breaking the law should pay for clean-up operations even if their mining licenses expire or are cancelled, since acid mine drainage (AMD) problems typically persist for many decades.
"The new government of Indonesia and the provincial government of South Kalimantan can and must do more to hold polluters accountable, in order to protect people and the environment," said Arif Fiyanto. "We expect a thorough investigation by government agencies, as well as tougher regulatory control. We look forward to working with the authorities to tackle and solve the problems highlighted in our report."
Click here to read/download the Full Report.
Source: Greenpeace.
Notes:
1) Around 1 million hectares of South Kalimantan's total land area of 3.7 million hectares have been allocated as coal mining concessions.
2) 'Point of No Return', Greenpeace Report, January 2013, p.12.