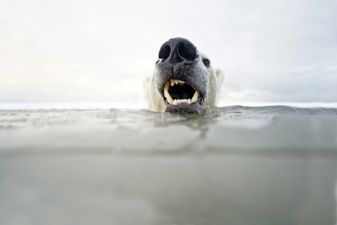 Ottawa – Climate change is threatening critical Arctic sea ice ecosystems, according to a new report, putting polar bears at risk for significant population declines by the end of the century. Under business-as-usual climate projections, polar bears could eventually face starvation and reproductive failure across the entire Canadian Arctic archipelago.
Habitat Loss Will Take a Toll on Polar Bears
A quarter of the world's polar bears inhabit the archipelago, where sea ice is currently present throughout the year. But according to the paper, "Projected Polar Bear Sea Ice Habitat in the Canadian Arctic Archipelago", published on November 26 in the scientific journal PLOS ONE with the support of WWF, even these bears are likely to face months of open water in the coming decades.
Action on Climate Change Needed 
Climate change is the primary threat to polar bears, melting the sea ice that is their critical habitat and reducing their access to prey. By 2070, the study found, over 80% of the archipelago's ice could break up in July, forcing pregnant females to retreat to land early. And although thin ice is better habitat for seals, the bears' main prey, it may simply not persist long enough to allow the polar bears sufficient hunting opportunities.
This scenario is avoidable if the world acts now to reduce greenhouse gas emissions. "WWF is calling for governments to act now to ensure that they do what is necessary to ensure a new global deal is concluded in Paris next year."
"And that agreement must ensure that the world scale up fair and just global action to ensure that global emissions peak within the decade," says Samantha Smith of WWF's Global Climate and Energy Initiative.
The Last Ice Area 
Even under the worst-case scenario, some parts of the archipelago are predicted to retain summer ice longer, with shorter ice-free periods. A fringe of ice around northern Canada and Greenland, the "Last Ice Area", is a potential refuge for ice-adapted life. This region requires special measures and management to maintain its viability as habitat.
"Although this study looked specifically at polar bears, these findings are trouble for all life linked to ice, including the people of the Arctic. The Last Ice Area could be a vital habitat well into the future, but decisions about its management are being made now," says Clive Tesar, WWF's lead on the Last Ice Area project.
"We believe local people should take the lead in deciding on the future of this area. WWF has been working to ensure Inuit organizations are informed and involved."
Check the following link to read/download the Full Study:
http://dx.plos.org/10.1371/journal.pone.0113746
Source: WWF.