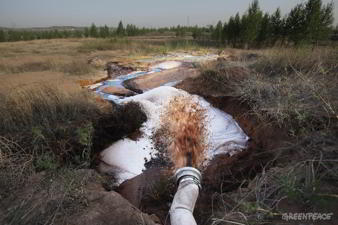 Beijing – A state-owned Chinese coal company is overexploiting groundwater and illegally dumping toxic industrial wastewater, highlighting the need to curb the country's burgeoning coal industry, Greenpeace East Asia has revealed.
In the report 'Thirsty Coal 2', Greenpeace East Asia reveals that the Shenhua Group, the world's biggest coal producer by volume, is exploiting water resources in Inner Mongolia at a shocking scale. Shenhua's operations have sparked social unrest and caused severe ecological damage including desertification, impacting farmers and herders who are facing reduced water supplies.
Alarmed by plans for an expansion of the Shenhua project, Greenpeace is calling on the company to end the water grab and for the Chinese government to impose strict supervision and enforcement of the principles governing coal-to-chemical projects.
"Shenhua claims its coal-to-liquid project has 'low water consumption' and 'zero discharge'. Our investigation proves these claims are false," Greenpeace East Asia campaigner Deng Ping said. "Thousands of farmers and herders are being affected by Shenhua's shameless exploitation of groundwater for profit. Shenhua's practices are violating Chinese water resource principles and laws controlling industrial wastewater discharge."
Since Shenhua's water extraction operations started in 2006, more than 50 million tonnes of groundwater have been extracted in Ordos, Inner Mongolia [1], leading to groundwater levels in the primarily agricultural and pastoral area falling by nearly 100 metres. The Lake Subeinaoer has also shrunk by nearly two-thirds.
This report is the first time Greenpeace East Asia has challenged a Chinese state-owned enterprise and is based on 11 field trips to the Shenhua project from March to July 2013. A high concentration of toxic chemicals in the wastewater was found including Benzo(a)pyrene levels in polycyclic aromatic hydrocarbons (PAHs) that were more than three times the national standard, while sulfide was almost twice the legal level.
In total, 99 semi-volatile organic compounds were identified in the wastewater and sediment samples, including PAHs and PAH-derivatives xylene, styrene, dichloromethane and cresol, many of which are considered to be carcinogenic.
Greenpeace East Asia's investigation shows that unchecked expansion of coal-reliant industries is threatening China's water resources. Much of the expanding coal bases in Western China are located in arid around areas with considerable water stress, but the coal industry needs to use vast amounts of water for coal production, power plants and turning coal into chemicals such as transport fuels.
Greenpeace East Asia calls on the Chinese government to issue clear regulations and exercise strict enforcement on coal-to-chemical projects. The principle of "Limiting Coal Expansion based on Water Capacity" set out by China's Central Government [2] must be followed in coal-to-chemical project applications and permits.
Check the following link to read/download the Thirsty Coal 2 Report:
http://www.greenpeace.org/eastasia/publications/reports/climate-energy/2013/thirsty-coal-two-china/
Source: Greenpeace.
Notes:
[1] According to 2013 Ordos People's Congress No. 6 Proposal: Recommendations on Strengthen Water Resource Management. Ordos People's Congress Website.
[2] Circular concerning the strengthening of the development and management of coal chemical projects to promote healthy development for the sector, 《关于加强煤化工项目建设管理促进产业健康发展的通知》,  NDRC Circular No. 1350, 2006.