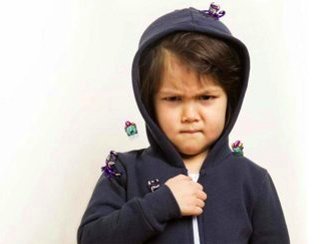 Beijing – Hazardous chemicals have been found in children's clothes and shoes made by major brands including Disney, Burberry and adidas, according to a new investigation released on January 14 by Greenpeace East Asia [1].
Testing was carried out on products sold by 12 brands across the industry, including American Apparel, GAP, Primark and Nike for the report "A Little Story About the Monsters in Your Closet" [2]. The findings showed little distinction between the levels of hazardous chemicals in clothing made for children – a group particularly vulnerable to the effects of these chemicals when released into the environment [3] – and adults when compared to previous studies [4].
Chih An Lee, Detox Campaigner at Greenpeace East Asia, said, "This is a nightmare for parents everywhere looking to buy clothes for their children that don't contain hazardous chemicals. These chemical 'little monsters' can be found in everything from exclusive luxury designs to budget fashion, polluting our waterways from Beijing to Berlin. For the sake of current and future generations, brands should stop using these monsters."
Every brand tested was found to have products containing hazardous chemicals. Among the results, one adidas swimsuit contained higher levels of PFOAs [5] than permitted in their own Restricted Substance List [6], while printed fabric on a Primark children's t-shirt contained 11% phthalates [7]. Meanwhile, NPEs [8] were detected in at least one article from every brand with high levels in products made by brands including Disney, American Apparel and Burberry. Once released into the environment, many of these chemicals can have adverse impacts either on human reproductive, hormonal or immune systems.
"Parents, fashion fans and local communities can help end this toxic nightmare by speaking out against polluting brands. Thanks to global people power, some of the world's biggest brands have already committed to Detox and many of them are already walking the talk towards supply chain transparency and the elimination of the worst chemicals." said An Lee.
China remains the world's largest textile producer and chemicals consumer and Greenpeace is calling on the government to help stop the use of hazardous chemicals in the textile industry. It is critical they publish a chemical blacklist to be acted upon immediately and urge factories to disclose chemical information, in order to facilitate chemical elimination and supply chain transparency and create a level playing field for the industry.
About the Detox Campaign
Greenpeace's Detox campaign calls for major clothing brands to commit to zero discharge of all hazardous chemicals by 2020. 18 major companies have already made landmark Detox commitments and many, such as Valentino, Mango and Zara, are making significant progress towards their goals of supply chain transparency and chemical elimination.
Check the following link to read/download the Full Report:
http://www.greenpeace.org/eastasia/monstersinyourcloset/
Source: Greenpeace.
Notes:
[1] Investigation carried out by Greenpeace International, published by Greenpeace East Asia.
[2] "A Little Story About the Monsters in Your Closet" – The latest Detox report testing for hazardous chemicals in children's products from 12 major clothing brands (adidas, American Apparel, Burberry, C&A, Disney, GAP H&M, Li-Ning, Nike, Primark, Puma and Uniqlo)
[3] A number of factors including size, metabolism and behaviour, can make infants, children and the developing foetus more vulnerable to some hazardous chemicals.
[4] Greenpeace International carried out a number of reports looking at the presence of hazardous chemicals in adults clothing items. See here.
[5] PFOA is an ionic perfluorinated chemical (PFC) which has been found throughout the environment even in remote regions. It can cause adverse impacts on the reproductive system and the immune system both during development and during adulthood.
[6] adidas Restricted Substance List. See here.
[7] Phthalates is a chemical group often used in the textile industry, for example, to soften plastics in some prints and some are known to be toxic to the reproductive system, particularly for development in mammals.
[8] Nonylphenol ethoxylates (NPEs) is a group of chemicals that break down in the environment to form the hazardous chemical nonylphenols (NP), which are known to be toxic, acting as hormone disruptors, being persistent (remaining in the environment for a long time), and bioaccumulative (building up in the tissue of humans and animals).