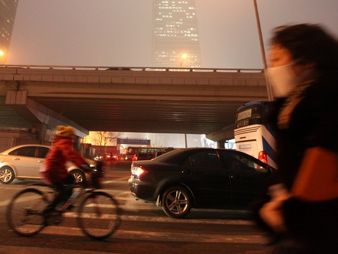 Lima, Peru – China's cities now account for more than half of the country's energy use and are home to nearly half of the country's population; that makes cities' long-term sustainability critical to China's climate change goal of peaking  by 2030 or before, according to a new report.
"Climate Change and Urbanization: Challenges and Progress in China" was released on December 10 by five international non-profit organizations at the COP20 international climate conference in Lima, Peru, and focuses on key urban land use, transportation and building efficiency solutions being implemented today in cities in China.
"China is in the midst of developing a green urbanization path for its cities – one that addresses climate, health and quality of life issues for its citizens," said Qian Jingjing, China Program Director for the Natural Resources Defense Council (NRDC). "China's efforts to promote low-carbon urbanization and develop innovative best practices provide ample opportunity for international cooperation as China addresses global climate change and this new urbanization path."
The report summarizes China's low-carbon urbanization experiences, lessons and recent progress, and underscores the significance and potential contribution of China's new urbanization to addressing global climate change. It was released at a China Pavilion side event at COP20 with the theme of "City's Green Low-Carbon Future," and examines three key urbanization issues for which Chinese cities are seeking climate-friendly solutions: land use, transportation and urban energy.
The report introduces case studies of good practices in Chinese cities, and was drafted by the NRDC China Program with input from Environmental Defense Fund (EDF), Energy Foundation China (EF China), Institute for Sustainable Communities (ISC) and World Resources Institute (WRI).
"Green development has now become a global trend," said Minister Xie Zhenhua, Head of the Chinese Delegation at Lima COP20 and Vice Chairman of China's National Development and Reform Commission (NDRC). "When exploring our own new urbanization path, promoting green cities, circular economy and low-carbon development, China needs to summarize and learn from past experiences, study domestic and international best practices, and actively participate in international exchange and cooperation."
Some of the case studies featured in the report include:
Efficient land use

Shanghai's "landless investment" that increased land use intensity
Kunming's transit-oriented mixed land use in the Chenggong New Town
Tianjin's integrated planning process in the Binhai New Area
Green transportation development

Asia's first – and the world's second largest – Bus Rapid Transit (BRT) system in Guangzhou
Hangzhou's public bicycle rental system
Wuhan's community carpooling low-carbon travelling initiative
Urban energy use efficiency

National low-carbon pilot programs at city and provincial level
Net-zero energy use buildings pilot programs
Energy retrofits for existing buildings in Northern China
WRI China Energy Program Lead Lei Hongpeng introduced the report on behalf of the five organizations. He noted that Chinese cities need to practice transit-oriented development so that transportation and urban planning can be closely integrated. Reducing the demand for private cars and strengthening non-motorized transit systems should be priorities while Chinese cities promote sustainable development.
Dr. He Dongquan, Director of the Sustainable Cities Program at EF China, emphasized that Chinese cities should pay special attention to land use intensity, smaller scale urban roads, mixed land use, etc., while urgently improving coordination between urban planning departments and other agencies.
EDF China Program Director Dr. Zhang Jianyu highlighted the necessity for cities to implement low-carbon energy planning. And ISC's China Country Director Dr. Janz pointed out that, based on ISC's experience in promoting community activities, Chinese cities should encourage and support various aspects of community and public participation in low-carbon energy conservation.
The international environmental organizations that developed the report have conducted sustainable/low-carbon projects in Chinese cities for many years, and have long supported green, low-carbon Chinese urban development. The research for the report was supported by the London-based philanthropy, the Children's Investment Fund Foundation.
Click here to read/download the Full Report.
Source: NRDC.