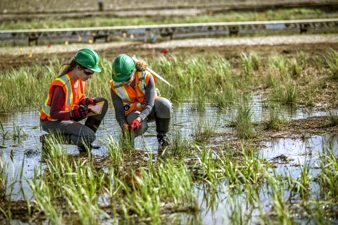 Calgary, Alberta – Suncor Energy announced the release of its "2014 Report on Sustainability: Framing the Next Conversation". The report outlines Suncor's environmental, social and economic performance and explores the challenges and opportunities related to producing energy.
The report highlights the importance of conversations and working together. "We seem to have lost the ability to have honest, direct, human conversations about energy choices that touch all of our lives, every day," said Steve Williams, President and CEO. "We need to work on practical solutions when we are looking at our collective energy future. The next conversation on our energy future begins today."
The 2014 report includes a mobile-friendly online design, shareable interactive charts and infographics, enhanced feedback survey tool and opportunities to join the conversation through talkingyes.com.
Below are some of the highlights found in the 2014 report:
Environment
The target year for Suncor's strategic performance goals on water consumption, reclamation of disturbed lands, energy efficiency and air emissions is 2015. The goals were established in 2009, with a baseline year of 2007.
Water: Suncor's goal is to reduce freshwater consumption by 12% by 2015. Earlier this year, Suncor opened a wastewater treatment facility at its Oil Sands operations, which can recycle between 22,500 and 43,222 litres (equivalent to 12 to 35 Olympic-sized swimming pools) of water per minute.
Land and Biodiversity: Suncor has a goal to increase reclamation* of disturbed land area by 100% by 2015. In 2013, Suncor officially opened a peat-accumulating wetland (a fen) native to the boreal forest near the company's oil sands base plant. The fen is a culmination of 10 years of collaborative research.
Air: Suncor is seeking a reduction of 10% in air emissions by 2015 as one of its environmental performance goals. Overall, total reported air emissions in 2013 decreased by almost 20% compared to 2012 levels. This decrease was primarily due to reduction in emissions from Oil Sands and divestiture of North America Onshore facilities.
Energy Intensity and Greenhouse Gas Emissions: Suncor has a goal of improving energy efficiency by 10% by 2015. In 2013, absolute greenhouse gas emissions increased while emissions intensity slightly decreased. Suncor continues to implement measures that conserve energy and lower greenhouse gas emissions.
Social
In 2013, Suncor and the Suncor Energy Foundation have contributed more than $30 million in community investment.
As part of Company's community investment program, Suncor works collaboratively with Aboriginal businesses and communities. Suncor continues to implement its Aboriginal Economic Collaboration Strategy with a goal to increase partnerships with Aboriginal businesses across Canada.
"The way forward is about forging meaningful and authentic partnerships with Aboriginal communities. It's about both sides bringing their expertise and voice to the table to find a better way – that's what we're working toward," commented Mary Pat Campbell, Manager, Stakeholder and Aboriginal Relations.
Economic
In 2013, Suncor spent more than $11.5 billion on goods and services. Of its 8,000-plus suppliers, 6,500 are Canadian and span all 10 provinces as well as the Northwest Territories and the Yukon.
Since 1992, Suncor has spent almost $2.5 billion on goods and services from Aboriginal businesses.
"If you don't aspire, you don't really know what you can achieve, and with these performance goals we've already achieved a lot by challenging ourselves to do better," said Arlene Strom, Vice President, Sustainability and Communications.