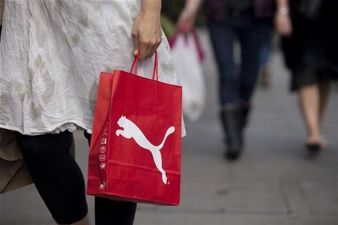 Berlin – German sports brand Puma announced an important step on November 21 towards the elimination of hazardous chemicals from its products and supply chain. In response to Greenpeace's Detox Campaign, the brand has laid out a credible action plan for the elimination of per- and polyfluorinated chemicals (PFCs) and set key milestones to achieve full supply chain transparency. 
"Puma's announcement shows that the company is taking its Detox commitment seriously. The detailed action plan for phasing out dangerous chemicals and releasing discharge data is another huge step towards a toxic-free future," says Manfred Santen, Detox Campaigner at Greenpeace Germany.
As part of the agreement, Puma will ensure 100% of all its products are PFC-free by no later than the end of 2017. The Puma commitment therefore exceeds adidas' announcement from June this year that 99% of all its products would be PFC-free by 2017. Nike, on the other hand, is lagging further, and is missing an action plan to clean up its production by 2020.
PFCs are used in the manufacturing of clothing and shoes to keep them dirt and water resistant. However, once released, these chemicals are known to be persistent, accumulate in the environment, and can impact human health, some of them damaging the immune and reproductive systems, and with links to diseases such as thyroid disease.
Puma has also set new standards in supply chain transparency. In line with the 'Right-to-Know' principle for local communities and the brand's customers, Puma will publish discharge data from 80% of its global suppliers by the end of 2014.
The textile industry remains one of the biggest polluting sectors in China, where about half of the rural population has no access to drinking water that meets international standards.
Puma was the first brand that committed to detox its supply chain three years ago and took the competition with other sport brands like Adidas and Nike.
"Puma has once again lived up to their slogan "Forever Faster" and are once again front-runners in the sportswear sector. The ball is now in the court of other laggards such as Nike and LiNing to match Puma's commitment to its customers," said Santen.
About the Detox Campaign
Greenpeace's Detox Campaign, launched in 2011, calls on major brands to eliminate hazardous chemicals from their supply chains by 2020 and urges governments to commit to zero discharge of hazardous chemicals within one generation. Thanks to public pressure, 20 major clothing companies have already committed to Detox, and many are taking progressive steps towards their commitments. For more information, visit www.greenpeace.org/detox.
Source: Greenpeace.
Notes: