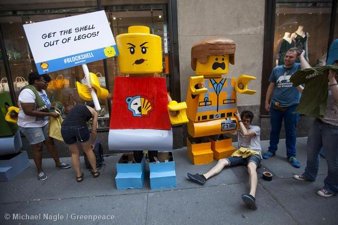 London – Following the Greenpeace's Save the Arctic campaign, LEGO published a statement this morning committing to 'Not Renew the Co-promotion Contract with Shell'. This decision comes a month after Shell submitted plans to the U.S. administration showing it's once again gearing up to drill in the melting Arctic next year [1].
During Greenpeace's three-month campaign, more than one million people signed a petition calling on LEGO to stop promoting Shell's brand because of its plans to drill for oil in the pristine Arctic. In stark contrast to Shell, LEGO's policies include a commitment to produce more renewable energy than they use, phase out oil in their products and, in cooperation with its partners, leave a better world for future generations [2].
In its statement, LEGO argued the dispute was between Greenpeace and Shell. However, Greenpeace insists that while LEGO is doing the right thing under public pressure, it should choose its partners more carefully when it comes to the threats facing our children from climate change. Due to contractual obligations, LEGO's current co-promotion with Shell will be honoured.
Ian Duff, Arctic campaigner at Greenpeace, said, "This is a major blow to Shell. It desperately needs partners like LEGO to help give it respectability and repair the major brand damage it suffered after its last Arctic misadventure. Lego's withdrawal from a 50-year relationship with Shell clearly shows that strategy will not work."
"The tide is turning for these fossil fuel dinosaurs that see the melting Arctic as ripe for exploitation rather than protection. The message should be clear; your outdated, climate wrecking practices are no longer socially acceptable, and you need to keep away from the Arctic or face being ostracised by society."
LEGO is the latest in a line of leading global companies to walk away from a relationship with the fossil fuel industry. In late 2012, Waitrose announced it has put its partnership with Shell on ice [3], and in the last month, Microsoft, Google and Facebook all made commitments to end their support for ALEC, a controversial lobby group that campaigns against climate change legislation [4]. Only weeks ago, the Rockefeller Foundation announced it will begin pulling its investments in the fossil fuel industry [5].
Ian continued, "LEGO's decision couldn't have come soon enough. The iconic and beautiful Arctic, and it's incredible wildlife, like polar bears and narwhals, is under threat like never before. Arctic sea ice is melting at an unprecedented rate, but instead of seeing the huge risks, oil companies like Shell are circling like vultures. Only weeks ago, Shell gave us the clearest indication yet that it's planning to go back to the Arctic as soon as next summer."
Shell's past attempts to drill in the Arctic have been plagued with multiple operational failings culminating in the running aground of its drilling rig, the Kulluk. The extreme Arctic conditions, including giant floating icebergs and stormy seas, make offshore drilling extremely risky. And scientists say that in the Arctic, an oil spill would be impossible to clean up meaning devastation for the Arctic's unique wildlife [6].
But on 28 August 2014, Shell submitted new plans to the US administration for offshore exploratory drilling in the Alaskan Arctic [1], meaning it's on course to resurrect its Arctic drilling plans as early as summer 2015.
In the past two years, a massive global movement has emerged calling for a sanctuary around the North Pole, to protect the Arctic and its unique wildlife from the onslaught of oil drilling and industrial fishing. More than six million people have joined the movement, and more than 1,000 influential people have signed an Arctic Declaration, including Archbishop Desmond Tutu, Emma Thompson and Sir Paul McCartney.
On 19 September, UN Secretary General Ban Ki-moon, met with Arctic campaigners to receive a global petition and said he would consider convening an international summit to discuss the issue of Arctic protection.
Source: Greenpeace.
Notes:
As part of the campaign, Greenpeace released a video LEGO: Everything is NOT Awesome which reached nearly six million views. The video was temporarily taken down from YouTube because of a copyright complaint, which was later withdrawn.
[1] Shell Submits a Plan for New Exploration of Alaskan Arctic, New York Times, 2014
[2] LEGO's Values, see http://aboutus.lego.com/en-gb/sustainability/our-approach
[3] You did it! Waitrose puts Shell relationship on ice, Greenpeace, 2012
[4] Facebook set to become latest tech giant to abandon rightwing lobby group Alec, Guardian, 2014
[5] Rockefellers go green: Rockefeller foundation divests funds in fossil fuel industries, Independent, 2014  
[6] Oil Spill Prevention and Response in the U.S. Arctic Ocean, The PEW Charitable Trusts, 2010