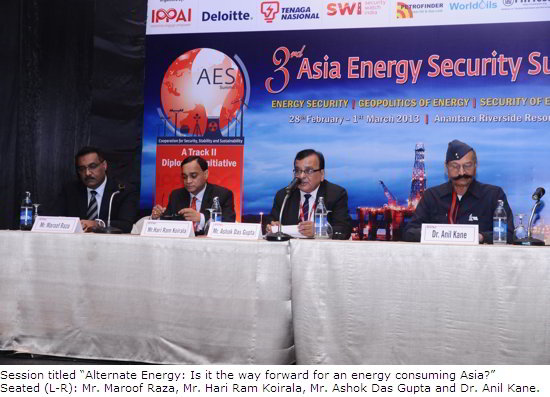 General (Retd.) Ashok Mehta, Defence and Security Commentator, India, Mr. Kevin Rosner, Editor-in-Chief, Journal of Energy Security, USA, Cmdre (Retd.) C. UdayBhaskar, Distinguished Fellow, Society of Policy Studies and Visiting Fellow, NMF, India, and Mr. Shyam Ratan Mehra, Former Secretary, Security Bureau of Civil Aviation, India, who chaired the session, discussed the impact of terrorism & insurgency on energy security, the impact of electro-magnetic pulse on electricity grid and critical infrastructure and security of sea lanes of communication from piracy.
Dr. Anil Kane, President Emeritus, World Wind Energy Association, made a very thought-provoking presentation on feasibility, reliability and adequacy of renewable energy in meeting the energy needs of Asia. Mr. Hari Ram Koirala, Secretary Nepal talked about hydro-electricity potential in Asia. Mr. Maroof Raza, Strategic Affairs Commentator, India, discussed about merits and demerits of the nuclear energy in the Indian context.
Mr. Dutta Roy, CEO, Development Enviroenergy Services Ltd., discussed commercialization of biomass energy system for energy security and also spoke about waste-to-energy conversion technologies. Mr. Karan Dhaul, Director, Global Energy Private Ltd., talked about energy storage technologies and their importance for renewable integration.
Finally, the very useful seminar on energy policy strategy directing & developing was rounded by Mr. Harry Dhaul with his deliberation on the emergence of a new Asian energy security paradigm.
Source: IPPAI.