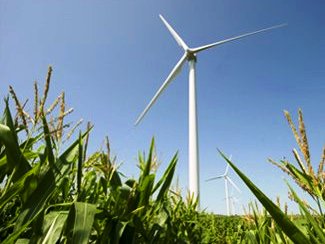 Juno Beach, Florida – NextEra Energy, Inc. (NYSE: NEE) released its 2014 Corporate Responsibility Report on October 9, detailing numerous actions it has taken to invest responsibly in North America's energy future.
The report catalogues the company's billions of dollars in clean energy investments, its low air emissions rates, and, at its Florida Power & Light Company (FPL) subsidiary, award-winning customer service and top-decile reliability. In addition, the digital report documents NextEra Energy's achievements in promoting economic development, meeting community needs, providing a safe, healthy and challenging work environment for its employees, and delivering strong financial results.
"This report details how our nearly 14,000 outstanding employees are playing key roles in responsibly modernizing North America's energy infrastructure in a way that preserves our resources for future generations," said Jim Robo, Chairman and Chief Executive Officer of NextEra Energy. "Last year alone, we invested $ 6.7 billion in our energy future, kept emissions rates well below our industry's averages, and achieved our best safety performance on record, all the while delivering strong financial performance."
Achievements documented in the report include:
NextEra Energy continues to grow its environmental leadership.
Nearly all the power NextEra Energy generated in 2013 was from clean or renewable sources, including wind, solar, natural gas and nuclear energy. Emissions rates* from its power plants of sulfur dioxide, nitrogen oxide and carbon dioxide were 97, 80 and 53 percent lower, respectively, than the U.S. electric industry's average.
The company has steadily improved its water withdrawal rate since it began tracking it in 2007, achieving a 42 percent reduction in its use of this precious resource through 2013 compared with the company's 2007 rate.
NextEra Energy protects wildlife species where the company has operations. These species include Florida manatees, American crocodiles, osprey, sea turtles, desert tortoises and the desert fox.
NextEra Energy is delivering superior value to its customers.
FPL, the company's rate-regulated electric utility, delivered 99.98 percent service reliability in 2013 and a typical residential bill that is about 25 percent below the industry average as well as the lowest in Florida for five straight years. FPL recently announced that, subject to regulatory approval, it expects its typical 1,000-kilowatt-hour residential customer bill to decrease nearly $2 a month beginning in January 2015, which would make that typical bill about 9 percent lower than it was in 2009.
FPL completed its industry-leading grid modernization program with more than 10,000 new intelligent devices now installed on its transmission and distribution grid and more than 4.6 million smart meters for customers.
FPL continued promoting energy efficiency in homes and businesses. The cumulative effect of these programs since 1981 has reduced electricity demand equivalent to the generation capacity of 14 medium-sized power plants.
Through a variety of activities that make up FPL's ASSIST program, the utility processed nearly $30 million in payments to approximately 117,000 customers in need, and raised another $ 1.5 million through the FPL Care to Share program.
NextEra Energy is helping communities thrive.
The company invested $ 6.7 billion – tops in its industry in 2013, according to data compiled by the Edison Electric Institute – in projects that created jobs across the United States and Canada and served as an economic engine for the communities in which they are located.
NextEra Energy employees volunteered nearly 50,000 hours of service to help their communities, served on the boards of directors of more than 200 non-profit organizations, and donated more than $ 3 million of their own money to support non-profits and other local organizations.
The company equipped teachers in Florida to help young people learn science, technology, engineering and math (STEM), and invested in education programs in other states, such as California, Texas and Michigan, as well as in Canada.
NextEra Energy cultivates a high performance organization that stresses safety, health, continuous learning and teamwork.
The company achieved its best safety performance on record in 2013, a 76 percent lower OSHA rate than it had in 2005.
NextEra Energy again was honored as a Best Employer for Healthy Lifestyles® for its effective workplace well-being programs.
The company was recognized by the U.S. Department of Defense's Employer Support of the Guard and Reserve for "exemplary support of Guard and Reserve employees."