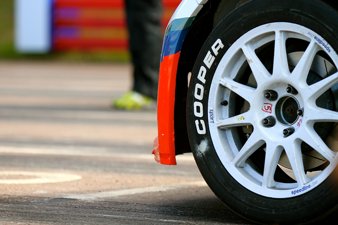 Findlay, Ohio – Cooper Tire & Rubber Company has released its 2013 Corporate Social Responsibility and Sustainability Report – "Responsibility the Cooper Way". The second annual report conforms to international reporting protocol and is available on the company's corporate website at http://coopertire.com/Corporate-Responsibility.aspx.
"As Cooper celebrates our 100th year in the tire industry, we recognize that our success is the product of an enduring legacy of hard work, ingenuity, resilience, an unwavering focus on the customer and a dedication to quality," said Cooper Chairman, Chief Executive Officer and President Roy Armes.
"Marking this milestone is a symbol of our sustainability as a company. Yet, at Cooper, we know it is our responsibility going forward to incorporate sustainable design into products; to use manufacturing and logistical processes that protect health, safety and natural resources; and to develop an environment in which Cooper people become increasingly creative problem solvers. Our latest sustainability report measures our performance in the areas of people, plant and prosperity as keys to our success in the next century, when achieving our sustainability goals will be even more important."
Highlights from Cooper's sustainability report, which covers the 2013 calendar year, include:
Safety Excellence System: Cooper has developed an employee safety excellence system that is the centerpiece of its "Drive to Zero" global safety campaign, which demonstrates the company's commitment to injury prevention as a top priority by building a zero-injury culture at every level of the business.
Energy Usage: Cooper has been working for many years to reduce energy usage, a key resource in the production of tires. Cooper has reduced energy usage intensity by 15 percent since 2009, and based on production levels, the company saved approximately 1.2 trillion joules/year in 2013, which is equivalent to approximately 18 percent of current energy use. The company's goal is to reduce energy usage intensity from 2012 levels by 10 percent by 2015.
Water Usage Intensity: Cooper adopted a goal in 2010 to reduce water usage intensity by 10 percent by the end of 2014 as compared to a 2009 baseline. The goal was achieved by the end of 2012. Now, Cooper has its sights set on a 20 percent reduction in water usage intensity by 2015 from the 2012 baseline.
Landfill Usage Intensity: Cooper landfill usage intensity has declined dramatically since 2009 and the company has set a target to reduce the 2012 level of landfill usage intensity by 20 percent by 2015.
Sustainable Tire Innovation: Cooper collaborates with a number of entities and partners on tire raw materials and design, scrap tire management and other sustainability topics. For example, Cooper and a number of universities and public/private sector partners are working together to develop more sustainable tires. Research into technologies associated with ultra-light weight fuel efficient tires and the development of a domestic source of natural rubber is being done by the company in conjunction with the Department of Energy (DOE) and the United States Department of Agriculture (USDA).
"We are proud of what we have achieved as sustainability and corporate social responsibility (CSR) has played an important role in our company's 100-year history," said Tom Wood, Cooper's Director, Global Environmental Affairs.
"Our sense of responsibility grows as our business and industry seek to become more sustainable and as Cooper continues to expand globally. Sustainability is becoming increasingly important to our business, our stakeholders, and our world. We consider it an important part of doing business to regularly provide data on our CSR and sustainability performance, and are pleased to offer our second annual sustainability report."
Check the following link to read/download the Full Report:
http://coopertire.com/corporate-responsibility.aspx
Source: Cooper Tire & Rubber Company.
About Cooper Tire & Rubber Company
Cooper Tire & Rubber Company (NYSE: CTB) is the parent company of a global family of companies that specialize in the design, manufacture, marketing, and sales of passenger car and light truck tires. Cooper has joint ventures, affiliates and subsidiaries that also specialize in medium truck, motorcycle and racing tires. Cooper's headquarters is in Findlay, Ohio, with manufacturing, sales, distribution, technical and design facilities within its family of companies located in 11 countries around the world. For more information, visit www.coopertire.com.