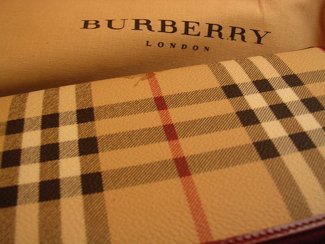 London – British luxury brand Burberry made a commitment on January 28 to eliminate the use of hazardous chemicals from its supply chain by 1 January 2020 [1].
Burberry's move comes after two weeks of people powered campaigning on the brand's social media channels, reaching an audience of millions, while this week Greenpeace volunteers held protests at stores from Beijing to Mexico City.
Ilze Smit, Detox campaigner at Greenpeace International said, "Burberry's commitment to rid us of these hazardous little monsters opens a new chapter in the story of toxic-free fashion. In taking this landmark step, Burberry has listened to its customers' demands, joining the ranks of brands acting on behalf of parents everywhere to give this toxic nightmare the happy ending it deserves."
As part of its commitment to eliminate all hazardous chemicals from all the products the brand produces or sells, they will first prioritise apparel. In addition, by no later than end of June 2014, Burberry will start disclosing the chemical discharges of its suppliers in the global South. And, by no later than 1st July 2016, Burberry has committed to eliminate all per- and poly- fluorinated chemicals [2] in its supply chain.
The news follows Greenpeace investigations which revealed the presence of hazardous chemicals, including toxic, hormone disrupting substances, in children's clothes made by 12 brands such as Disney, adidas and Primark. [3]. Many of these chemicals are now wide-spread in our environment, following years of discharges into global waterways from clothing at the point of manufacture or after purchase.
"Burberry's move raises the bar for the luxury sector. With the Fashion Weeks coming up, brands like Gucci, Versace and Louis Vuitton risk getting left behind. From budget to luxury, people have a right to demand our clothes are free from hazardous chemicals and big brands have a responsibility to do something about it," added Smit.
About the Detox Campaign
Greenpeace's Detox Campaign, launched in 2011, calls on major brands to eliminate hazardous chemicals from their supply chains by 2020 and urges governments to commit to zero discharge of hazardous chemicals within one generation. Thanks to public pressure, 19 major clothing companies [4] have already committed to Detox and many are taking progressive steps towards their commitments.
Source: Greenpeace.
Notes:
[1] Read the Burberry announcement here.
[2] Per- and poly- fluorinated chemicals (PFCs) are man-made chemicals widely used by industry for their non-stick and water-repellent properties. In the textile industry, they are used to make textile and leather products both water and stain-proof.
[3] For more, see Greenpeace East Asia's report 'A Little Story About the Monsters in Your Closet' here.
[4] List of committed companies: Nike, Adidas, Puma, H&M, M&S, C&A, Li-Ning, Zara, Mango, Esprit, Levi's, Uniqlo, Benetton, Victoria's Secret, G-Star Raw, Valentino, Coop, Canepa, Burberry.