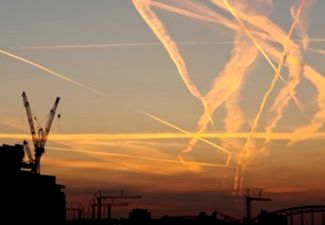 CDP launched its FTSE 350 Climate Change Report 2013 on October 9. In the wake of the 5th Assessment Report (AR5) published by the Intergovernmental Panel on Climate Change (IPCC) confirming that global warming is manmade, this report provides an annual update on greenhouse gas emissions data and climate change strategies at the UK's largest public companies.
The report "Are UK Companies Prepared for the International Impacts of Climate Change?" is co-written by professional services firm PwC. This year, 94% of the FTSE 100 and 74% (69% in 2012) of the FTSE 350 responded to the investor request for information sent by CDP. Based on data from 260 companies (238 in 2012) submitting responses, the report focuses on the reporting of indirect emissions and supply chain impacts, with these key findings:
UK companies' greatest risk from climate change likely to be global, not local: 69% of the FTSE 350 have international operations across 145 countries, exposing them to regulatory, physical and other climate-related risks, but are also well-placed to benefit from international opportunities. Most report risks (86%) and opportunities (82%) but over a tenth of companies (13%) report no risks at all, indicating inadequate integration of climate change management into business strategy;
Short-term planning persists: Respondents are looking primarily at direct, shorter-term risks, with only 32% of companies reporting risks and 14% opportunities with timeframes of ten years or more; and
Limited engagement with supply chain leaves risks uncovered: Nearly half (48%) of companies looked at do not engage with their supply chain on emissions or climate change, with the majority of emissions from value chains not currently measured. Just over a third of respondents report indirect risks, compared to nearly three quarters reporting direct risks, suggesting companies are not sufficiently assessing their whole value chain.
Paul Simpson, Chief Executive at CDP, the international not-for-profit organization dedicated to creating sustainable economies, said: "Clearly, a large part of the operations of UK companies are international and are insufficiently accounted for by companies when considering their environmental impact. There are advantages, such as reduced costs and increased resilience that these companies can benefit from by looking more comprehensively at their value chains and taking a longer term view."
"The latest IPCC report is a wake-up call: UK companies must better integrate climate change management into their business strategy and CDP's report gives clear steps – in the way of five straight-forward actions – that can be taken by companies to do this."
"This is timely, as with the advent of mandatory reporting here in the UK, all companies listed on the main market must now maintain systems to report on their emissions data."
Jonathan Grant, Director at PwC, said: "For many companies, the debate about the science is over. The challenge now is to translate climate risks into business risks and how investment strategies can be updated to address them. Some of the FTSE 100 companies have a sophisticated and long-term response to climate risk and are evaluating the potential impacts of climate change on their operations, customers and supply chain. More detail in the climate models, in terms of timing and location of impacts, will help companies incorporate climate risks into their planning and investment decisions. Those in the FTSE 250 often have shorter term and narrower horizons and will be reactive to commodity price volatility, policy change or climate shocks."
James Bevan, CIO at CCLA Investment Management Ltd., added: "Climate change poses considerable risks to global security, economic stability, and the portfolios of long-term investors. The City and UK plc are increasingly aware that we need to support global policy makers in introducing an appropriate carbon price so that financial markets and multi-nationals can increasingly lead the low carbon transition. In the meantime, CDP's performance bands enable CCLA to run ambitious and effective collaborative engagement programmes. Today's excellent report highlights the progress being made and points to the challenges ahead."
Richard Pamenter, VP Environmental Sustainability at GlaxoSmithKline plc (GSK), said: "Understanding the risks and opportunities around climate change is important for an international company like GSK if we are to bring more medicines to more people in a more sustainable way. Our long term goal is to be carbon-neutral across our value chain by 2050. This means not just reducing emissions at our own facilities, but right across our value chain from the sourcing of raw materials to the use of our products by patients and consumers. Measurement and disclosure of value chain emissions is a critical first step on our journey to be carbon neutral."
Check the following link to read/download the Full Report:
https://www.cdproject.net/CDPResults/CDP-FTSE-350-Climate-Change-Report-2013.pdf
Source: CDP.