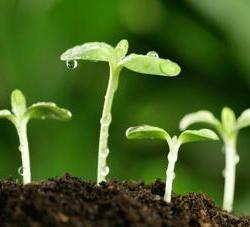 New York / Zurich – S&P Dow Jones Indices, one of the world's largest providers of financial market indices, and RobecoSAM, the investment specialist focused exclusively on sustainability investing, announced the results of the annual Dow Jones Sustainability Indices (DJSI) review on September 12. Launched in 1999, the DJSI were the first global indices to track the financial performance of the leading sustainability-driven companies worldwide.
Following RobecoSAM's Corporate Sustainability Assessment (CSA), the three largest additions and deletions (by free-float market capitalization) to the DJSI World include:
Additions: Bank of America Corp, UBS AG and United Parcel Service Inc
Deletions: Johnson & Johnson, HSBC Holdings PLC and Vodafone Group PLC
The DJSI World 2013/2014 will have 333 components following 39 additions and 47 deletions from the index. All changes are effective on Monday, September 23, 2013.
The 2013 DJSI review also yielded the following regional index component changes:

Guido Giese, Head of Indices, RobecoSAM, said, "The DJSI have a double impact. They enable investors to integrate sustainability into their portfolios and at the same time they provide an engagement platform that encourages companies to adopt sustainable best practices. We encourage active participation in our Corporate Sustainability Assessment each year and this year we were happy to see a 31% increase in participation from companies in emerging markets."
David Blitzer, Managing Director and Chairman of the S&P Dow Jones Index Committee, S&P Dow Jones Indices, said, "The market upheavals and high debt levels of the last few years should remind investors that a long term view of the world and the markets is essential. The Dow Jones Sustainability Indices combine that kind of long run focus on sustainability with index investing to empower investors."
The DJSI follow a best-in-class approach, including companies across all industries that outperform their peers in numerous sustainability metrics. RobecoSAM invites over 3,000 publicly traded companies, including 800 companies in emerging markets, to report annually on their sustainability practices.
The Corporate Sustainability Assessment provides an in-depth analysis of financially material economic, environmental and social practices, such as innovation or supply chain management, climate strategy and stakeholder engagement and places a special focus on industry-specific risks and opportunities.
Based on the Global Industry Classification System (GICS), RobecoSAM annually identifies the top company in each of the 24 industry groups. The 2013-2014 Industry Group Leaders are (listed alphabetically by Industry Group):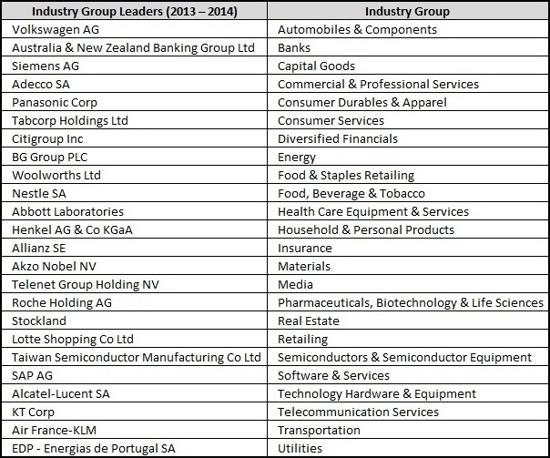 For additional information on the DJSI, visit:
http://www.sustainability-indices.com/ and
http://www.djindexes.com/sustainability/
Source: S&P Dow Jones Indices and RobecoSAM.