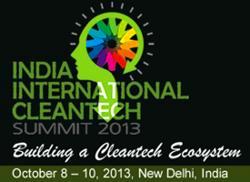 Event Dates: October 8-10, 2013
Location: New Delhi, India
Organized By: Federation of Indian Chambers of Commerce and Industry (FICCI)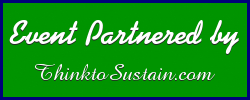 About the Summit:

Abundance of renewable energy sources, vast scope for energy efficiency, waste management and pollution control measures, right policy frameworks, incentives and commercial opportunities has made India a very attractive option for global Cleantech technology providers as well as investors. With such a dynamic environment in the country, it is an extremely opportune time to bring leading Indian and global stakeholders of the Cleantech community together at an interactive platform to widen the scope of Cleantech penetration in India and deepen the linkages among the stakeholders.
FICCI is launching the first India International Cleantech Summit 2013 – first ever platform for Cleantech ecosystem in India – on October 8-10, 2013 in New Delhi, to bring policy dialogue on Cleantech to the forefront and provide visibility to the Cleantech community as well as Cleantech market opportunities in India.
The three-day event is designed to cater to the entire Indian and Global Cleantech Ecosystem consisting of Industry, Cleantech Innovators, Developers, Suppliers, Financiers, as well as Users. It would also bring together Governments, Multilateral and Bilateral Organizations, Research Institutes as well as Services sector that provide critical support to the Cleantech ecosystem. The summit deliberations will focus on three important pillars for clean technology – policy, financing, and markets.
The sessions of the India International Cleantech Summit are designed to brainstorm on prospects, policy, regulatory framework, barriers and enablers for clean technology investment, research, development, deployment and diffusion. The three-day summit will comprise of high-level panel discussions, conversations, networking and business-to-business meets. There would be showcasing opportunity for select global and Indian success stories of Cleantech applications which can bring about a paradigm shift and are replicable and scalable in the Indian context.
ThinktoSustain.com is the Media Partner for the event.
Objectives:
To facilitate an enabling policy and regulatory environment for a holistic Cleantech ecosystem in the country, and address barriers to and solutions for Cleantech investment, development, deployment and diffusion
To showcase market opportunities in India for clean technology as well as global best practices in clean technology innovation, investment and adoption
To provide a platform for global Cleantech companies and investors to interface with the Indian Cleantech community and end users to explore partnerships
The audience for the summit would comprise of focused participant from:
Central and State Policymakers and Government Officials
Indian and Global Cleantech Organizations
Cleantech Experts
Designated Consumers Under PAT Scheme
Small and Medium Enterprises
Cleantech Innovators
Entrepreneurs
Banks and Financial Institutions
Verification and Certification Bodies
Research Institutions
Consultants, Advisors and Legal Firms
Academic Institutions
Cleantech Start-Ups
Cleantech Technology Providers
Integrators and Marketing Companies
Cleantech Project Developers
EPC Companies
Private Equity and Venture Capitalists
Multilateral and Bilateral Organizations Engaged in Cleantech
Cleantech Funding Agencies
State Nodal Agencies In-charge of Renewable Energy, Energy Efficiency, Environment, Waste Management
Global Cleantech Companies and Investors
Pension Funds, Insurance Companies
Plenary Session Themes:
Global Outlook for Cleantech
Policy and Regulatory Environment for Building a Cleantech Ecosystem
Investors Outlook on Cleantech in India
Role of Pension Funds, Insurance & Capital Markets in Cleantech
Successful Partnerships and Business Models for Cleantech Projects
Outlook for Cleantech in India