New York – Solar Impulse, the solar-powered airplane of Swiss pioneers Bertrand Piccard and André Borschberg has successfully landed at New York's John F. Kennedy International Airport setting a new milestone in the history of aviation. For the first time, a plane capable of flying day and night powered exclusively by solar energy has crossed the USA from the West to the East Coasts without using a single drop of fuel.
André Borschberg, Solar Impulse Co-founder and CEO, landed Solar Impulse at JFK on Saturday, July 6 at 11:09 p.m. EDT, three hours earlier than planned due to a rip in the fabric on the lower side of the left wing. The flight took 18h 23min with a departure from Washington Dulles at 04:46 a.m. EDT on Saturday.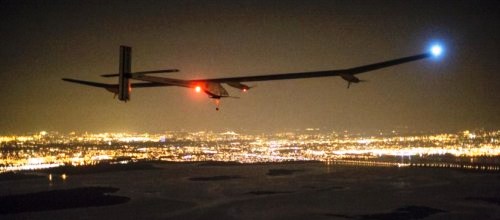 "This last leg was especially difficult due to the damage of the fabric on the left wing. It obliged the team to envisage all the possible scenarios, including bailing out over the Atlantic. But this type of problem is inherent to every experimental endeavor. In the end, this didn't prevent us from succeeding in our Across America mission and provided an invaluable learning experience in preparation for the round-the-world tour in 2015," said André Borschberg shortly after landing, adding "We extend our gratitude to all airport and government authorities whose precious support made this mission possible."
The arrival of Solar Impulse in New York City marks the culmination of its ambitious journey Across America, which started on May 3rd in San Francisco, California.
The journey took a total of 105h 41min and 3511 miles flown at an average speed of 28.8 kt. Before reaching New York, Bertrand Piccard and André Borschberg alternately flew Solar Impulse to Phoenix, Dallas-Fort Worth, St. Louis, Cincinnati and Washington, D.C. The plane stopped over in each of these cities giving the opportunity to the team to organize public viewings and political meetings with high level representatives such as Secretary of Energy Ernest Moniz, to promote clean technologies, energy efficiency and renewable energies.
Dr. Bertrand Piccard, Solar Impulse Initiator, Chairman and pilot, received the 'Champion of the Earth' award from the United Nations Environment Programme (UNEP) in 2012 in the 'Innovation and Action' category.
His previous achievements in aviation include the "Breitling Orbiter" project, which in 1999, saw the first non-stop balloon flight around the globe, resulting in new records for the longest flight in history in terms of duration and distance.
"Flying coast-to-coast has always been a mythical milestone full of challenges for aviation pioneers," said Dr. Piccard.
"During the Solar Impulse journey, we had to find solutions for a lot of unforeseen situations, which obliged us to develop new skills and strategies. In doing so, we also pushed the boundaries of clean technologies and renewable energies to unprecedented levels," he added.
For more information, visit www.solarimpulse.com.
Source: UNEP.