Bridgetown, Barbados – Barbados, a Caribbean island at the cutting edge of the fight against climate change, will host this year's World Environment Day (WED) global celebrations on 5 June 2014, according to a joint announcement made by the Government of Barbados and the United Nations Environment Programme (UNEP).
The theme for this year's celebrations is "Small Island Developing States and Climate Change". Barbados, a 430-square kilometer nation with a population of 270,000, is considered to be highly vulnerable to the effects of climate change – from agricultural impacts to the destruction of its coastal ecosystems.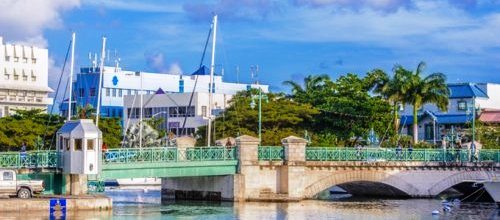 However, this small nation has taken big steps to reduce its climate impact and to provide clean, renewable energy – as well as opportunities for green economic growth – to its people.
Among other things, Barbados has pledged to increase the share of renewable energy across the island to 29 percent of all electricity consumption by 2029. This would cut total electricity costs by an estimated USD 283.5 million and reduce CO2 emissions by 4.5 million tonnes, according to the Government.
"I would like to take this opportunity also to formally announce that the global spotlight will again be focused on Barbados as we have been selected to co-host the Global Event for World Environment Day 2014, to take place on 5 June. This event will once again give Barbados the opportunity to showcase its rich culture and tourism assets to the world," said Prime Minister of Barbados Freundel J. Stuart.
"Our target should be to place Barbados firmly on the world map in the context of the environment and sustainable development. This can only be achieved if all parties – public and private sector, NGOs and civil society – work together for a successful World Environment Day," he added.
It is estimated that Barbados' tourism sector, which contributes about 15 per cent of the island's Gross Domestic Product (GDP), and its sugar industry, which contributes about 2 per cent, could both be severely affected by changing weather patterns.
In response to such threats, Barbados has made "Building a Green Economy: Strengthening the Physical Infrastructure and Preserving the Environment" one of the six concrete goals built into its National Strategic Plan (2006-2025).
"Small Island Developing States the world over are facing a host of risks related to climate change, from temperature increases that negatively affect agriculture to sea level rise that threatens the very existence of some nations," said UN Under-Secretary-General and UNEP Executive Director Achim Steiner.
"Barbados has put conservation and the transition to an inclusive green economy at the heart of its national strategy. Through this framework, it has enacted a number of proactive, concrete measures to combat climate change, including incentives that support one of the island's fastest growing sectors – solar power."
"As the host of WED, Barbados will have the opportunity to showcase these initiatives and to act as an example for countless Small Island Developing States facing similar challenges. The country has shown tremendous leadership and political will, proving that the transition to a green economy is possible – even in countries facing the greatest threats – when robust environmental policy is translated into action on the ground," he added.
The island's over-reliance on imported fossil fuels has become one of its major environmental concerns. The National Strategic Plan, its new Medium Term Development Framework 2014-2020 and supporting fiscal framework are designed to ease this dependency by increasing the country's renewable energy supply, with a special focus on raising the number of household solar water heaters in Barbados.
In his Feature Address during the opening of the landmark Sustainable Energy for All Conference in May 2012, Prime Minister Stuart said, "At the regional level, we realize that high oil prices have severely affected Caribbean competitiveness, with a negative fiscal and macro-economic impact on our fragile economies. For example, Barbados spent USD 393,538 million last year on oil imports, or 6 per cent of Gross Domestic Product, which has impacted negatively on direct production costs and the overall competitiveness of the Barbadian economy."
He added, "We know that although many Small Island Developing States are energy deficient in conventional energy, limitless potential for renewable energy and energy efficiency resides in our countries. The fundamental issue thus is, how do we, as Small Island Developing States with inherent structural problems and limited resources, convert this renewable energy potential into a tangible product that is accessible, affordable and adaptable?"
Solar water heaters are now a widely used renewable energy technology in Barbados, with installations in nearly half of the island's dwelling units. In 2002 alone, Barbados saved 15,000 metric tonnes of carbon emissions and over USD 100 million in energy savings from the 35,000 solar hot water systems that had been installed at the time. The solar water heater use is one of the highest in the world (water heaters per thousand households).
Three Barbadian companies lead the installation and manufacturing of solar water heaters on the island, and they are already expanding the Caribbean market potential in the nearby islands of Trinidad and St. Lucia.
The solar water heater industry started in 1974 with the pioneering company Solar Dynamics. That early effort was also supported by the McGill University's Bellairs Research Institute in the early 1970s. In recent times, that institution restarted its solar training programme with a focus on solar electric systems. With a regional outlook, the training has already been extended to Belize.