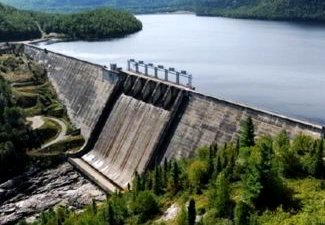 Montréal, Québec – Hydro-Québec presented its Sustainability Report 2012 on May 21, which highlighted the accomplishments and progress achieved by the company in 2012 with regard to sustainable development.
This year marks the 11th anniversary of this publication: Hydro-Québec was one of the first companies in Québec to publish a sustainability report.
"Hydro-Québec contributes to Québec's sustainability in a major way, primarily by generating energy that is clean and renewable," explained Stella Leney, General Manager – Environment and Corporate Affairs. "With hydropower accounting for 98% of Hydro-Québec's output, the company produces very low levels of greenhouse gas emissions. In fact, in 2012, our net exports helped avoid 16 million tonnes of CO2 emissions, which is almost the equivalent of the annual emissions of all cars and light trucks on Québec roads."
Some of Hydro-Québec's Achievements in 2012
1. Romaine Project
In 2012, employment totalled 1,348 person-years, with workers from the Côte-Nord region and from Innu communities accounting for 40% of the workforce. ReNew Canada magazine ranked the Romaine Complex as the second-biggest infrastructure project under way in Canada in 2013.
2. Ongoing Efforts in Energy Efficiency
The energy efficiency efforts of Hydro-Québec and its customers generated new savings of 1.1 TWh in 2012, for a total of 7.6 TWh in annual savings achieved since 2003 – the consumption equivalent of 400,000 households.
Launched in 2011, the Dare to Compare service allows the company's customers to compare their electricity consumption to that of similar households. Customers can now find out whether they are energy-efficient or energy-hungry. Over 355,867 reports were prepared in 2012.
Hydro-Québec continued its Refrigerator Replacement for Low-Income Households program. By 2015, the program will have covered all of Québec's regions. A total of 6,993 refrigerators have been replaced since the launch of this initiative in 2011.
3. Drinking Water Savings
One million litres of drinking water were saved through Hydro-Québec's program for refurbishing administrative buildings. This program has generated recurring annual savings totalling 248 million litres since 2007.
4. Recovery, Reuse and Recycling
A total of 454 tonnes of power-line hardware has been given to a business and recycling training centre (CFER).
Purchases of paper have decreased by 9% compared to 2011.
Recovery: 748 t of paperboard and 412 t of paper.
5. Contribution to the Economy
In terms of overall contribution to Québec's economy, the number of direct jobs supported by Hydro-Québec's procurement is the equivalent of 12,900 person-years. In addition, 94% of the company's goods and services are procured from Québec-based companies.
6. Ground Transportation Electrification
By the end of 2012, the Electric Circuit had nearly 150 charging stations in service and 20 new partners. Hydro-Québec is one of the founding members of the Electric Circuit, a key initiative for the rollout of the charging infrastructure needed to support the arrival of electric vehicles in Québec.
Check the following link to read/download the online version of the Sustainability Report 2012:
http://www.hydroquebec.com/publications/en/enviro_performance/
Source: Hydro-Québec.