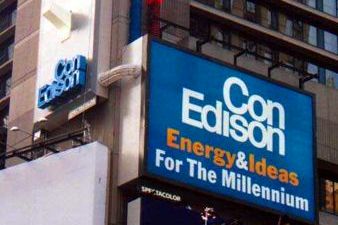 New York – Con Edison's Sustainability Report for 2013 was released today, revealing company units have reduced greenhouse gas emissions 43 percent since 2005.
Con Edison's Sustainability Report, available online, follows the recent release of Newsweek Magazine's 2014 Green Rankings, dubbing the New York-based company the "greenest" utility in the United States and the 16th greenest U.S. company overall.
The report features, for the first time, an interactive infographic illustrating the company's national impact by state. Hovering over individual states reveals what Con Edison spends with local vendors, the numbers of employees or retirees in each area, as well as the company's offices and alternative energy projects across the country.
"We're committed to employing, incorporating, and promoting sustainable practices in every part and every aspect of our business," said Con Edison Vice President of Environment, Health and Safety Andrea Schmitz. "We also are committed to helping customers make the right energy efficiency and sustainability choices."
Con Edison's main subsidiary, Con Edison Company of New York, completed gas additions at two steam-generating stations that serve Manhattan, avoiding approximately 148,000 tons of CO2 emissions annually.
Many of Manhattan's hospitals, museums, commercial towers and apartment buildings below 96th Street rely on Con Edison steam for cooling, heating, sterilization or humidification services, contributing significantly to Gotham's cleaner air and clearer skies. The Metropolitan Museum, the United Nations Complex, Rockefeller Center, and the New York University Hospital Center, for example, all rely on Con Edison steam.
Among the report's other mentions:
Con Edison recycled about 90 percent of its non-hazardous waste materials.
The company piloted a new process to clean oil and water separators that will save 340,000 gallons of water a year.
Con Edison invested more than $2.2 billion to upgrade and reinforce its energy delivery systems overall, including $36 million directly related to Superstorm Sandy upgrades.
Con Edison converted over 1,600 customers from heating oil to cleaner-burning natural gas, saving customers money and avoiding more than 140,000 tons of emissions annually.
At Consolidated Edison Inc.'s regulated utilities, (Con Edison Company of New York and Orange and Rockland Utilities) the company saw significant growth in solar installation. An additional 1,190 customers installed solar PV last year alone, growing from 33 MW at the start of 2013 to 53 MW at the end of year. Solar power production has quadrupled across our service territories in the last three years, with a compound annual growth rate of 75 percent.
Con Edison's competitive businesses also have seen growth in solar. Con Edison Development (CED) completed eight solar projects in 2013, totalling 245 MW bringing the total capacity of solar projects to 393 MW and making them the sixth largest solar producer in North America. Con Edison Solutions (CES) also completed six projects.
Con Edison's energy efficiency programs actively encourage customers to use less energy, providing rebates for customers to use energy efficient equipment. Con Edison helped customers realize energy savings of almost 155,000 megawatt hours and 285,000 decatherms of energy through energy efficiency programs.
Con Edison employees volunteered 5,900 hours of their time in community programs throughout the company's service area.
The Sustainability Report also touched company-wide emphasis on safe-work practices: Con Edison Company of New York maintained a record-low OSHA rate, while Orange and Rockland Utilities achieved a new record.
In addition to the Newsweek Green Rankings accolade, Con Edison also was named to Corporate Responsibility magazine's "CR 100" list of the Top 100 companies for 2014.
Check the following link to read/download the Full Report:
http://conedison.com/ehs/2013-sustainability-report/index.html
Source: Con Edison.
About Con Edison
Con Edison is a subsidiary of Consolidated Edison, Inc. [NYSE: ED], one of the United States' largest investor-owned energy companies, with approximately $12 billion in annual revenues and $41 billion in assets. The utility provides electric, gas and steam service to more than three million customers in New York City and Westchester County, New York. For more information, visit www.conEd.com.