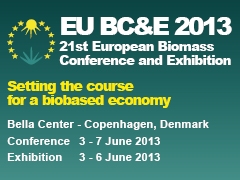 Event Dates: June 3-7, 2013
Location: Bella Center, Copenhagen, Denmark
Organized By: ETA-Florence Renewable Energies
About the Event:
The European Biomass Conference and Exhibition represents one of the key events in Europe and worldwide for companies and professionals operating at the top end of the biomass and bioenergy sector. For over 30 years now, the event has combined a very renowned international Scientific Conference with an Industry Exhibition.
It provides a high-level scientific programme and parallel events, which attract participants from wide ranging backgrounds – researchers, engineers, technologists, standards organisations, financing institutions, and policy and decision makers. Such a global exchange platform of current knowledge in turn attracts industrial exhibitors, making the conference events a significant tool for technology transfer and innovation.
This event is supported by European and international organizations, such as the European Commission, UNESCO – United Nations Educational, Scientific and Cultural Organization, Natural Sciences Sector,  The Danish Ministry of Foreign Affairs, DEA – Danish Energy Agency, WCRE – the World Council for Renewable Energy, EUBIA – the European Biomass Industry Association, Copenhagen Cleantech Cluster, Danish Bioenergy Industries Association, INBIOM – Innovation Network Biomass, the City of Copenhagen and other organisations. The Technical Programme is coordinated by the European Commission, Joint Research Centre.
Introduction:
The 21st European Biomass Conference and Exhibition will be hosted in Copenhagen, Denmark, which is, in fact, globally acknowledged as a hub for cleantech companies and as an example of sustainable development in renewable. The city features leading companies and research organizations in large-scale applications of biomass such as co-firing, as well as in small-scale applications such as co-generation, biomass for heating, biogas and algae, and it also houses important world players in the development of 2nd generation biofuels.
The City of Copenhagen has set the goal to be carbon neutral in 2025 – as the first capital in the world. In light of this, the Conference, by bringing the latest science to a wider audience, will help to keep up the momentum in reducing carbon emissions, both in terms of the technological development and the political goals. In a future low carbon economy, bioenergy can play a significant role and can contribute substantially to the global energy supply.
ThinktoSustain.com is the 'Media Partner' for the event.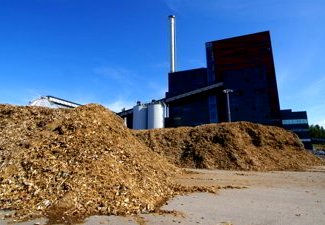 Event Agenda:
The conference programme will touch on all aspects of the biomass sector along the week. A number of speeches and visual presentations will be focused on how to assess and ensure sustainability along biomass value chains, by means of certification, standardization and enacting correct policies. This year a special session on sustainability with an interactive debate will be organized.
The subjects which will be discussed at the EU BC&E 2013 include: biomass resources, R&D on biomass conversion technologies for heating, electricity and chemicals, R&D on processes for solid, liquid and gaseous fuels from biomass, industrial demonstration and business concepts and biomass policies, markets and sustainability.
For more information about the Conference Programme, visit:
http://programme.conference-biomass.com/
Who Should Attend?
EU BC&E attendees come from all levels, from research to policy and industry, from decision-makers to specialists, researchers, engineers, technologists, stakeholders from standard and scientific organizations and renewable energy groups, global investors, financing institutions, European and international policy and decision makers, international delegations.
Who Should Exhibit?
With the complete biomass chain present, the event provides an excellent opportunity to have the overview on the market potential, identify new technologies and establish new partners and clients. The EU BC&E will assist with targeted marketing activities to help exhibitors promote their presence before and during the event. As one of the leading international platforms for biomass and bioenergy, the EU BC&E addresses the dynamic development along the entire value-added chain of biomass and bioenergy and represents the annual opportunity for companies to impart products, services and technologies that serve the global biomass field.
For more information about the Exhibition, visit:
http://www.conference-biomass.com/Exhibition.406.0.html
Fee & Registration Details:
Check the following link for details regarding Fee and Registration:
http://www.conference-biomass.com/Registration.1702.0.html

About the Organizers:
With its multidisciplinary and international team, ETA-Florence Renewable Energies is a qualified and dynamic company able to offer global consulting services for projects in the following sectors: Biomass, Biofuels, Photovoltaics, Solar Thermal, Wind, Desalination, Energetic Efficiency, Sustainable Mobility. The company prides itself on its extensive experience in the field of research, development, application, integration of renewable energies systems, offering professional consulting at any level of study, planning and dissemination. For more information, visit www.etaflorence.it.
Event Website URL: http://www.conference-biomass.com