Renewable electricity capacity achieves new record level, increasing more than 8% in 2013, accounting for more than 56% of net additions to global power capacity;
Renewables meet almost one-fifth of world final energy consumption;
Now 95 emerging economies nurture renewable energy growth through supportive policies, up six-fold from just 15 countries in 2005.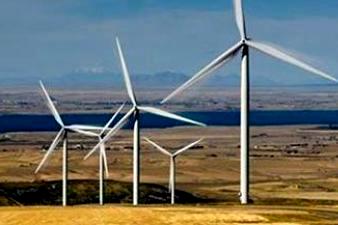 The number of emerging economy nations with policies in place to support the expansion of renewable energy has surged more than six-fold in just eight years, from 15 developing countries in 2005 to 95 early this year.
Those 95 developing nations today make up the vast majority of the 144 countries with renewable energy support policies and targets in place, says REN21's Renewables 2014 Global Status Report. And the rise of developing world support contrasts with declining support and renewables policy uncertainty and even retroactive support reductions in some European countries and the United States.
Launched at the UN-hosted Sustainable Energy for All Forum in New York, the 2014 report credits support policies with a central role in driving global renewable energy capacity to a new record level last year – more than 1,560 gigawatts (GW), up more than 8% from 2012. More than 22% of the world's power production now comes from renewable sources.
According to REN21, "Markets, manufacturing and investment expanded further across the developing world, clearly illustrating that renewables are no longer dependent upon a small handful of countries."
In 2013, an estimated 6.5 million people worldwide worked directly or indirectly in the renewable energy sector.
REN21's Renewables 2014 Global Status Report is the world's most frequently-referenced report on the renewable energy market, industry and policy developments.
Among Highlights:
Overall last year, renewables accounted for more than 56% of net additions to global power capacity.
Hydropower rose by 4% to approximately 1,000 GW in 2013, accounting for about one-third of renewable power capacity added during the year. Other renewables collectively grew nearly 17% to an estimated 560 GW.
Renewable energy provided 19% of global final energy consumption in 2012, and continued to grow in 2013. Of this total share in 2012, modern renewables accounted for 10% with the remaining 9% coming from traditional biomass the share of which is declining.
Useful heat energy from modern renewable sources accounted for an estimated 4.2% of total final energy use; hydropower made up about 3.8%, and an estimated 2% was provided by power from wind, solar, geothermal, and biomass, as well as by biofuels.
For the first time, more solar PV than wind power capacity was added worldwide accounting for about one-third of renewable power capacity added during the year
Even as global investment in solar PV declined nearly 22% relative to 2012, new capacity installations increased by more than 32%. The solar PV market had a record year, adding more than 39 GW in 2013 for a total of approximately 139 GW. China saw spectacular growth, accounting for nearly one third of global capacity added, followed by Japan and the United States.
China, the United States, Brazil, Canada and Germany remained the top countries for total installed renewable power capacity.
China's new renewable power capacity surpassed new fossil fuel and nuclear capacity for the first time.
In the European Union, 2013 marked the sixth consecutive year in which renewables represented the majority of new electricity generating capacity. The 72% share in 2013 is in stark contrast to a decade earlier, when conventional fossil fuel generation accounted for 80% of new capacity in the EU-27 plus Norway and Switzerland.
Renewables are achieving high levels of penetration in several countries. For example, throughout 2013, wind power met 33.2% and 20.9% of electricity demand in Denmark and Spain, respectively; in Italy, solar PV met 7.8% of total annual electricity demand.
Growing numbers of cities, states, and regions seek to transition to 100% renewable energy in either individual sectors or economy-wide. For example, Djibouti, Scotland, and the small-island state of Tuvalu aim to derive 100% of their electricity from renewable sources by 2020. Among those who have already achieved their goals are about 20 million Germans who live in so-called 100% renewable energy regions.
Uruguay, Mauritius, and Costa Rica were among the top countries for investment in new renewable power and fuels relative to annual GDP.
Wind power was excluded from one of Brazil's national auctions because it was pricing all other generation sources out of the market.