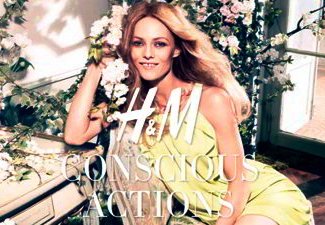 On March 21, H&M published its eleventh Conscious Actions Sustainability Report. Highlights from the report for 2012 are:
H&M is one of the first and largest fashion companies in the world to make its supplier factory list public.
H&M is the first fashion retailer in the world to launch a global system to collect old clothes and help them to a new life.
H&M is the number one user of organic cotton in the world – again.
H&M raised the support for higher wages and yearly wage reviews for garment workers during personal meeting between Prime Minister of Bangladesh, Sheikh Hasina, and CEO of H&M, Karl-Johan Persson.
Launch of a cutting edge global water stewardship with WWF which is a game changer in the fashion industry taking the whole supply chain into account.
"We are proud of the achievements we have made during the year. We are transparent about the progress we make and the report is an important part of that. Our customers should feel confident that everything they buy from H&M is designed, manufactured and handled with responsibility for people and the environment," says Karl-Johan Persson, CEO at H&M.
Together with the launch of the sustainability report, H&M made its supplier factory list public – as one of the first and largest fashion companies in the world. The list covers around 95% of the total production volume. Behind this is a long record of preparatory work to build strong, strategic bonds with the suppliers, allowing H&M to disclose their names, their factories and even their locations without major concerns about the ongoing competition on the best available production capacity in the industry. By publishing the list, H&M wants to contribute to a more transparent and ultimately more sustainable fashion industry.
H&M is the first fashion retailer to on a global scale offer its customers the opportunity to return old clothes, from any brand and in any condition, to its stores. The initiative is foremost an environmental project. H&M wants to reduce the amount of fashion that ends up in landfills and give these clothes a new future. In the long run, H&M wants to make new clothes out of them and close the textile loop.
For the second year in a row, H&M is the biggest user of certified organic cotton in the world. As well as making major investments in Better Cotton, the company plans to further increase its use of organic cotton and gradually increase its use of recycled cotton. They are currently on track of only using sustainable cotton, with11.4% of their cotton now coming from these sources.
"Being one of the biggest fashion companies puts high demand on our sustainability work and we take this responsibility seriously. There are a number of things that stand out such as being the biggest user of organic cotton in the world, being the first fashion retailer to launch a garment collecting initiative globally, and promoting transparency by disclosing our supplier factory list", says Helena Helmersson, Head of Sustainability at H&M.
Key Figures from our Conscious Actions Sustainability Report 2012
11.4% of the cotton came from more sustainable sources (7.8% certified organic cotton, 3.6% Better Cotton)
Around 150.000 cotton farmers were trained on better farming techniques through the Better Cotton Initiative.
The use of recycled polyester was equivalent to 7.9 million plastic bottles.
450 million litres of water were saved in the production of denim and other water-intense products by applying water-saving production techniques.
74% of the managers and 50% of the board members are women.
H&M reduced electricity use in its stores by 15% per square meter compared to 2007, targeting 20% reductions by 2020.
570,821 garment workers in Bangladesh received training on their rights since 2008, using short films.
More than 100,000 workers and middle managers in H&M supplier factories received additional training on fire safety.
The compliance with the H&M Code of Conduct amongst the supplier factories continued to improve, with sustainability performance scores (ICoC) increasing from 79.3% (Dec. 2011) to 81.7% (November 2012).
H&M invested about SEK 42 million (approx. USD 6.3 million / EUR 5 million) into communities in India and Bangladesh and the H&M Conscious Foundation.
H&M sustainability report and a summary of its highlights are available to read and download at: hm.com/consciousactions2012
H&M list of supplier factories is available at: hm.com/supplierlist
Source: H&M.