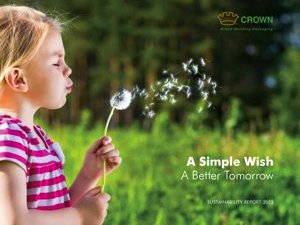 Philadelphia, Pennsylvania – Crown Holdings, Inc., a leading supplier of metal packaging products worldwide, announces the release of its second Sustainability Report. Structured using the Global Reporting Initiative's (GRI) G3 Guidelines at Application Level C, the report focuses on developments in the company's sustainability efforts from an economic, environmental and social perspective since its inaugural publication was issued in November 2011.
Reflecting fiscal years 2011 and 2012, the report includes third-party industry figures as well as internal data showing progress on seven key metrics since the last reporting period: material consumption, VOC emissions, energy consumption, direct and indirect greenhouse gas emissions, waste recycled, waste disposal and NOx emissions.
"The findings in the report are clear and show that even as we have increased our unit volume production and expanded our manufacturing activities to new geographies we are using fewer resources and less energy," said John Conway, Chairman of the Board and Chief Executive Officer of Crown. "As we reflect on our progress to date, we are mindful that we must remain committed to continued improvement in the years to come by focusing on innovation, maximizing production efficiencies and leveraging the outstanding leadership of our employees and partners around the world."
The full report, published in English, can be downloaded at www.crowncork.com/sustainability. Executive summaries of the report will be available on the website in Chinese, French, German, Italian, Portuguese and Spanish at the end of January 2014.
Highlights include:
The powerful sustainability story of metal packaging. For example:

Metal packaging is 100% recyclable and can be infinitely recycled with no loss of physical properties.
Cans help minimize food waste by protecting food from spoilage and light and also provide the longest shelf life of any package.
The beverage can you drink from today can return to the shelf as another beverage can in as little as 60 days.
Nearly 75% of all aluminum and 80-90% of all steel that has ever been produced is still in use today.
New cans produced with recycled steel reduce greenhouse gas emissions by 75%, while new cans produced with recycled aluminum reduce greenhouse gas emissions by 95%.
9 million cans are recycled every hour worldwide.
Winners of the first annual Chairman's Sustainability Awards program, which was developed to recognize the Company's manufacturing facilities that have shown outstanding leadership and innovation across all three dimensions of sustainability. The successes achieved at the winning plants serve as a benchmark for Crown's other facilities around the world to emulate.
Crown's commitment to invest in the safety and well-being of its employees, their families and the communities in which the company operates. This is realized through training, education, access to wellness programs and more.
Examples of innovations from across Crown's technology portfolio that offer significant sustainability benefits as well as enhance the consumer experience.
Check the following link to read/download the Full Report:
http://www.crowncork.com/sustainability/report
Source: Crown Holdings.
About Crown Holdings, Inc.
Crown Holdings, Inc. (NYSE: CCK) (Crown), through its subsidiaries, is a leading supplier of packaging products to consumer marketing companies around the world. World headquarters are located in Philadelphia, Pennsylvania. For more information, visit www.crowncork.com.