Nairobi – Improved urban transport strategies can bring a myriad of benefits to India, from reductions in CO2 emissions to a more mobile and inclusive society, according to a new report.
The revised version of "Toolkits for Urban Development: Comprehensive Mobility Plans" was updated by India's Ministry of Urban Development together with the Institute of Urban Transport, the United Nations Environment Programme (UNEP) and other partners. It builds on the first edition of the toolkit, which was prepared in 2008.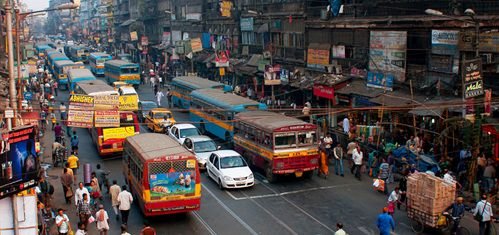 According to the report, the goal of improved mobility strategies – which include more-efficient vehicular traffic, enhanced public transit systems and non-motorized transport – should be to provide safe, secure, efficient connectivity that supports and enhances economic, social and environmental sustainability.
Since 2008, the policy landscape in India has undergone developments with a heightened focus on climate change. Given the fact that growth over the last two decades has increased the chasm between the rich and poor, there is also an emerging focus on inclusive development.
The revised toolkit provides a response to these changes in the form of clear policy guidance with service-level benchmarks.
Comprehensive Mobility Plans
The report recommends that cities develop strong, clear and implementable comprehensive mobility plans – long-term visions for desirable accessibility and mobility patterns for people and goods.
Such plans should lead to the following outcomes:
Improvement in mobility for all socio-economic groups and genders;
Reduction in CO2 emissions;
Improvement in air quality;
Improvement in safety and security for pedestrians and non-motorized transit users;
Achievement of desirable indicators and benchmarks.
The report stresses that comprehensive mobility plans should be compatible with, and integrated into, existing city development plans.
Developing Sustainable Urban Transport
In India, the per capita CO2 emission in 2000 was 1.0 t CO2. This number jumped to 1.33 t CO2 in 2010 due to the rapid pace of development.
The sustainable scenario assumes deep cuts in these emissions, using low-carbon energy sources such as renewables and natural gas, as well as highly efficient technologies (e.g., improved vehicle efficiency). It also includes the adoption of behavioural and consumption styles consistent with sustainable development.
The scenario considers how to draw residents to non-motorized transit, including by enhancing the user experience (better footpaths and bicycle lanes) and improving safety for cyclists and pedestrians.
It considers the need to improve public transit, such as bus service and mass transit.
Finally, it considers technological changes that could enhance fuel efficiency and reduce CO2 emissions, as well as regulatory and financial measures that could help shift people from private transport to more sustainable modes of transit.
Urban Mobility Plans
As part of comprehensive mobility plans, the report recommends that cities develop specific urban mobility plans, which are based on the sustainable scenario. These should include a concrete time-frame, financing options and identify implementing agencies.
In addition, they should encompass:
The formulation of a public transport improvement plan, including improvements for buses, trams and para-transit;
A road network development plan;
Regulatory and institutional measures on traffic safety and emissions;
Plans for non-motorized transit.

Implementation
The report recommends that immediate and short-term actions (0-2 years) should aim at improving the safety and accessibility of pedestrians, cyclists and public transport users, as well as traffic circulation.
Medium-term actions (2-5 years) should include city-level initiatives such as public transport fleet enhancements, which are aimed at halting the decrease in the city's public transport and non-motorized transit use.
Meanwhile, long-term actions (5-10 years) should include implementing the overall vision of the comprehensive mobility plan. This involves developing networks for walking and cycling, bus systems, mass-transit networks, parking regulations and pricing strategies as a demand management tool and improving overall road networks for efficiency.
Check the following link to read/download the Full Report:
http://unep.org/pdf/CMP%20Report.pdf
Source: UNEP.
Notes:
The revision undertaken in the Toolkit is based on, among others, the experience gained from preparation of Low-carbon Comprehensive Mobility Plans under the UNEP project "Promoting Low Carbon Transport in India" in the cities of Rajkot, Vishakhapatnam and Udaipur.
The International Climate Initiative (IKI) of Germany is the main funder of the Low Carbon Transport project.