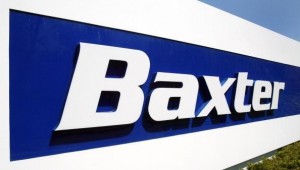 DEERFIELD, Ill., June 25, 2014 – Baxter International Inc. (NYSE: BAX) today issued its 15th annual Sustainability Report detailing the company's progress creating social, environmental and economic value by addressing the needs of stakeholders worldwide.
"Baxter's vitality as a healthcare enterprise, and our ability to deliver on our commitments to our stakeholders, depends on our embrace of the new," said Robert L. Parkinson, Jr., Baxter's chairman and chief executive officer. "This includes not only the scientific innovations that define our service to patients and caretakers; it also encompasses new ways of doing business that advance our goals as a publicly traded company and global corporate citizen."
Baxter's 2013 Sustainability Report highlights innovative programs such as:
Reducing plastics waste by 9 percent per unit of production since 2011 at 20 facilities through a collaborative approach in which participating facilities share learnings and tools to improve efficiency and financial performance. Baxter is exploring how to use this approach to reduce other waste streams across the company. Additionally, Baxter's Northampton, United Kingdom, distribution facility met its zero-waste-to-landfill goal in October 2012, and during 2013 the facility further improved waste sorting and increased employee awareness of waste generation at the site. Baxter is pursuing zero waste-to-landfill status at other locations.
Initiating a community water project with a local non-governmental organization near the company's Cuernavaca, Mexico, facility to build the community's capability to sustainably manage its water supply and sanitation systems at local schools. Engaging and educating the local community with tools on how to preserve this resource helps to ensure the long-term sustainability of the program. Baxter is also continuing a similar partnership near the company's Canlubang, Philippines, facility to improve water, sanitation and hygiene conditions for local residents.
Optimizing product transport through technology that helps transportation planners maximize the amount of weight per truckload. The reduction in truck shipments is expected to save 2,300 metric tons carbon dioxide equivalent of emissions. Baxter's largest distribution center in the United States initially implemented this technology and the company plans to begin using the application at other U.S. facilities.
Partnering with the Vinyl Council of Australia (VCA) to launch the VCA's PVC Recovery in Hospitals initiative in Australia, which collects used PVC medical products for recycling into new products, such as garden hoses, road cones and floor matting. Baxter Australia plans to expand the program in 2014 and has initiated a pilot in New Zealand. Baxter is exploring how this type of program may work in other countries and regions.
Comparative Life Cycle Assessment Demonstrates Environmental Benefits of Hemodialysis Devices
Baxter uses life cycle assessment (LCA) to evaluate the environmental performance of its products and determine ways to reduce environmental impact. To better understand the environmental impacts of hemodialysis, Baxter completed a comparative LCA in 2013 of the company's VIVIA Hemodialysis System with two alternative hemodialysis (HD) devices, one conventional HD device from Baxter and one home HD device from another company. HD devices are used by some patients with end stage renal disease to filter their blood outside the body through a dialyzer (blood filter). The VIVIA system is designed to allow patients with kidney failure to perform High Dose HD therapy (more frequent or extended duration HD) at home, in part through extended uses of its dialyzer and blood set.
In this LCA, the VIVIA system had a carbon footprint approximately 35 percent smaller than the conventional HD system performing fewer treatments per week in an in-center setting, and between 20-40 percent smaller than the two alternative HD systems performing High Dose HD at home.
Interest is increasing to create a more sustainable therapy for the growing population of HD patients, as demonstrated by initiatives such as the National Health Service's carbon reduction strategy in the United Kingdom, the Green Nephrology Programme for sustainable kidney care, and environmentally preferable purchasing policies adopted by hospitals and purchasing organizations. This study was presented during the 2014 European Dialysis and Transplant Association Congress in Amsterdam.
Baxter completed CE mark approval for the VIVIA system in Europe in December 2013, and is introducing the VIVIA system in a limited number of European dialysis clinics in 2014 to allow patients and healthcare providers to become familiar with the system and its patient-friendly features. Baxter plans to expand the European launch in 2015.
Baxter Recognized for Sustainability Performance
Baxter is included for the 13th year in Corporate Responsibility magazine's 100 Best Corporate Citizens list for its corporate social responsibility performance. The annual survey draws from U.S. firms in the Russell 1000 Index and is based on nearly 300 data points of publicly available information in seven categories: environment, climate change, employee relations, human rights, governance, finance and philanthropy.
Additionally, the Puerto Rico Manufacturers Association (PRMA) recently recognized Baxter's Aibonito and Guayama facilities for environmental excellence. The Aibonito facility received a Platinum Award for recycling more than 90 percent of its waste, and the Guayama facility received a Silver Award for recycling more than 68 percent of its waste. The PRMA environmental awards recognize members whose conservation and restoration achievements exceed parameters established by regulatory agencies.
Baxter International Inc., through its subsidiaries, develops, manufactures and markets products that save and sustain the lives of people with hemophilia, immune disorders, infectious diseases, kidney disease, trauma, and other chronic and acute medical conditions.