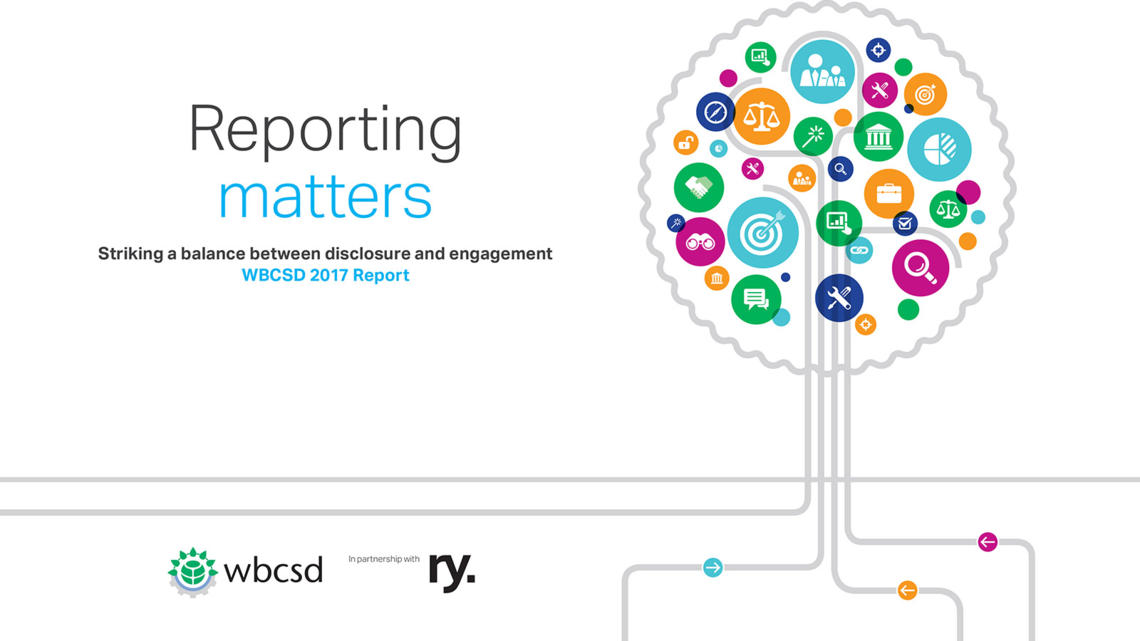 Geneva/London/Mexico City: Spanning 157 leading companies from more than 20 sectors and 35 countries, this year's research points to positive progress in corporate reporting and disclosure as well as a continued movement towards digital reporting.
74% of WBCSD member company reports reviewed improved their overall score compared to baseline year 2013, despite pressure to strike the balance between stakeholder needs and increased disclosure requirements.
Despite progress, however, companies still face increased pressure to report on a growing number of disclosure requirements, while also meeting the needs of a wider variety of key stakeholders. Companies must find ways to meet the challenge, making sure all reported information is concise and meaningful.
Reporting matters helps companies meet the challenge by providing good-practice examples as well as general trends and benchmarks over the past five years. This is particularly useful to business because insights can be shared across sectors for collective improvement.
This year's report also provides insight into the new Task Force on Climate-related Financial Disclosures (TCFD) recommendations, WBCSD's new collaborative work on risk management with COSO, the expanding universe of disclosure requirements and updates on the status of human rights and Sustainable Development Goals (SDGs) reporting.
Key findings from Reporting matters 2017 include:
74% of member company reports reviewed have improved their overall score in our benchmark compared to baseline year 2013.
44% go beyond a traditional PDF report and include online content – up from 23% in 2014 when we started tracking this data accurately.
79% acknowledge the Sustainable Development Goals (SDGs) in some way
34% combine financial and non-financial information, up from 23% in 2013. 22% specifically cite the International Integrated Reporting Framework.
The Global Reporting Initiative (GRI) is still the most widely used set of reporting guidelines and standards. 85% of member company reports reviewed cite the GRI Guidelines or the new Standards. 18% have already transitioned to the new GRI Standards.
27% note that executive compensation is tied to sustainability metrics in some way, but only five companies provide specific percentages.
Peter Bakker, CEO and President, WBCSD, said: "This year's Reporting matters shows that there is clear progress towards transformative change that will be an essential part of delivering the Sustainable Development Goals. We see the trend toward online and integrated reporting is moving non-financial reporting further into the mainstream – positioning sustainability at the heart of corporate governance, financial and risk management. This is a positive lever to scale up impact and make more sustainable companies more successful."
Louise Ayling, Senior Sustainability Consultant at Radley Yeldar, said: "We're excited about the theme of this year's Reporting matters, which for the first time shines a spotlight on the challenges companies face while trying to navigate the competing needs of multiple stakeholders. We highlight the importance of addressing new disclosure requirements such as TCFD and demonstrating tangible progress towards the SDGs. At the same time, Reporting matters acknowledges the increasing demand for engaging sustainability content by a wider variety of audiences, across broader channels, such as online and integrated reporting. It's a challenge we've addressed by updating the Experience criteria this year."
Reporting matters will continue into 2018 and beyond as WBCSD and its member companies work to improve corporate reporting on the road to a sustainable future.