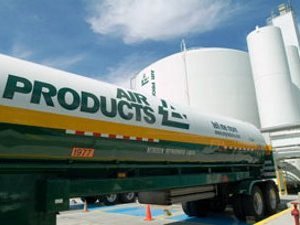 Lehigh Valley, Pa. – Building on more than a decade of sustainability reporting, Air Products (NYSE:APD) has published its third consecutive Global Reporting Initiative (GRI) Sustainability Report, highlighting performance and progress against its sustainability goals. GRI has again assessed the company's latest G3.1 Guidelines-based report as Application Level A+.
"Sustainability is not just something we report on, it's embedded in who we are. It's inherent to our business strategy, our governance structure, our value proposition to customers, our operations model, and our values as an organization," said John McGlade, Chairman, President and Chief Executive Officer of Air Products.
The report – available online and in an interactive format ideal for mobile devices – provides 2012 economic, governance, environmental and social performance data across the company's four pillars of sustainability management:
Business Value – More than half of Air Products' annual revenues are derived from sustainable offerings that help customers and others down the value stream improve energy efficiency, reduce emissions, and improve quality and productivity, and meet social needs.
Environmental Stewardship – Air Products has met or is on track to meet all six of its existing environmental goals, including: greenhouse gas emissions intensity, energy consumption, water intensity, hazardous waste, toxic releases, and fleet emissions.
Social Responsibility – Air Products contributed more than $ 5.6 million to not-for-profit organizations, launched a renewed diversity and inclusion strategy to focus on business impact and talent development, refreshed its global safety efforts, and continued to expand its award-winning learning programs.
Governance – Air Products refreshed its Employee Code of Conduct and extended it to its Indura S.A. joint venture employees; surveyed suppliers representing approximately half of its more than $ 6 billion annual procurement spend; and supported the development of new Responsible Care® Process Safety and Product Safety Codes while remaining on track with EU Registration, Evaluation and Authorization of Chemicals (REACH) compliance.
Air Products continues to be recognized for its sustainability commitment and practices, including being named to the 2013/2014 Dow Jones Sustainability World and North America Indexes and the 2013 CDP™ Global 500 and S&P500 Climate Disclosure Leadership Indices.
Check the following link to read/download the Full Report:
www.airproducts.com/company/Sustainability/sustainability-reports.aspx
Source: Air Products.
About Air Products
Air Products (NYSE:APD) provides atmospheric, process and specialty gases; performance materials; equipment; and technology. For over 70 years, the company has enabled customers to become more productive, energy efficient and sustainable. Recognized as one of the world's most innovative companies by both Thomson Reuters and Forbes magazine, more than 20,000 employees in over 50 countries supply effective solutions to the energy, environment and emerging markets. These include semiconductor materials, refinery hydrogen, coal gasification, natural gas liquefaction, and advanced coatings and adhesives. In fiscal 2013, Air Products had sales of $ 10.2 billion. For more information, visit www.airproducts.com.