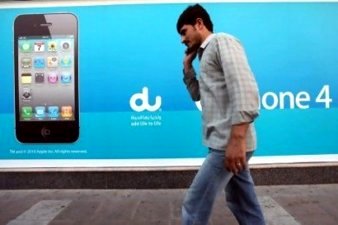 du announced the release of its second Sustainable Development Report 2012 on October 29 – for which it has garnered a remarkable B+ rating by the Global Reporting Initiative (GRI). The Sustainable Development Report conforms to the GRI G3.1 Guidelines of the United Nations Global Compact – which du has been a member of since 2008.
The company is one of only nine corporate entities in the UAE which received their GRI certification during the 2012 reporting cycle. The report was validated by a third party – Arabic CSR Network – prior to being sent to GRI for certification. Thanks to its B+ rating achievement, du has emerged as the highest-rated telecommunications company in the UAE and the Middle East for the 2012 reporting cycle.
As an advocate for sustainable initiatives for a greener future, du is an ardent supporter of the UAE Green Economy Strategy. Through its Sustainable Development Report – and in light of the UAE's bid for Expo 2020 – du aims to establish industry benchmarks in matters of transparency, responsibility and accountability.
Osman Sultan, CEO, du, said, "Applying corporate governance principles as well as sustainable development are incorporated into everything that we do; it has become a corporate way of life that is embraced by everyone within our company. It is our desire to set an example in the UAE, the region and the world – by demonstrating that while sustainable success comes from within, it has a far-reaching ripple effect that touches the lives of everyone around us. We hope that – by working together towards a greener future – we can fulfill the wishes of the UAE's leadership and establish a sustainable ecosystem here in the Emirates."
Hala Badri, Executive Vice President, Brand and Communications, du, echoed that sentiment, adding, "We are proud to have received such a positive GRI rating as it sheds light on our wide-ranging sustainability efforts and revolutionary initiatives. Earlier this year, we obtained our second CSR Label from Dubai Chamber and now, this new recognition further underscores our transparent and holistic approach to creating real value for the various stakeholders in our community."
du's reporting approach is divided into five chapters:
Our Approach: The approach focuses on du's governance strategies. As one of the UAE's leading governance practitioners – after being ranked first in the Standard & Poor's Hawkamah Pan Arab Environmental and Social Governance Index in 2011 – du is continuing to improve its environmental, social and corporate governance practices.
Our People: This is evident through du's ability to become the employer of choice for the most talented UAE Nationals, its Emiratisation initiatives, and the ways in which it engages with internal its stakeholders.
Our Customers: du has set forth pioneering methods to further engage one of its key external stakeholder groups. With initiatives such as the "Customer Satisfaction Report" and "Direct to the CCO" – an escalation channel that enables customers to approach the Chief Commercial Officer directly – du is a true trail-blazer in customer engagement and satisfaction.
Our Environment: This section is dedicated to the schemes that du has implemented in order to reduce its carbon footprint, such as migrating to smart energy hybrid systems, and launching the UAE's first LEED Platinum-certified retail outlet.
Our Community: This outlines du's contributions to the people of the UAE, from providing free Iftar meals through its Ramadan Mawaed Al Rahman Initiative to nurturing young talent with educational opportunities, to supporting local entrepreneurs and promoting Emirati culture.

du's Sustainable Development Report 2012 is available to view online:
http://www.du.ae/en/about/sustainability
Source: du.
About du
du's official name is Emirates Integrated Telecommunications Company (EITC), and is an integrated telecom service provider, dedicated to providing customers the best in choice, quality, innovation and pricing. Based in the UAE, the company's services include fixed and mobile telephony, broadband connectivity and IPTV services, which are offered to individuals, homes and businesses. For more information, visit www.du.ae.