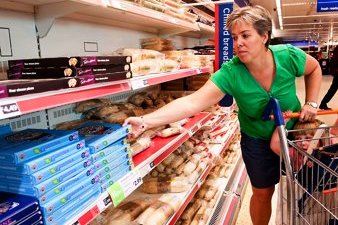 Medan, Indonesia – Palm oil buyers are doing more than before but not nearly enough to encourage responsible growers to reduce the adverse impacts of producing the world's most popular vegetable oil in some of the most vulnerable tropical habitats around the world.
The 2013 edition of WWF's Palm Oil Buyers Scorecard, released on the opening day of the annual conference of the Roundtable on Sustainable Palm Oil (RSPO), identified Belgian processor Ecover, confectionary company Ferrero Trading, home-goods giant IKEA, German retailer REWE, leading global palm oil user Unilever and the UK's United Biscuits as the global leaders in uptake of sustainable palm oil and efforts to minimise greenhouse gas emissions.
"For the first time, we include US companies alongside major European, Australian and Asian companies and now have a global scorecard of how much palm oil buyers are doing to support sustainability," said WWF Palm Oil lead Adam Harrison.
"However, while we can report gratifying progress by many companies, it is still true that demand for certified sustainable palm oil (CSPO) is lagging significantly behind supplies – and from our scorecard, we can see which companies are not taking the action they should to change that."
"While some of these palm oil buyers come up with excuses, the reality is that there are no good reasons for so many buyers to be so significantly behind schedule in achieving their own targets of 100 per cent sustainable palm oil supplies by 2015."
Palm oil plantations, largely in low lying tropical areas in Southeast Asia but increasingly in Africa and Latin America, produce 65 percent of the world's traded vegetable oil. Palm oil is a key ingredient in many foods, cosmetics, soaps and detergents, and is emerging as a significant biofuel stock. Overall, palm oil demand is expected to double by 2020, increasing the pressure on tropical forests and biodiversity, risking dangerous levels of greenhouse gas emissions from tropical peats and increased community conflict. But that does not have to be the way the industry grows. The RSPO shows that palm oil can expand sustainably – and the role of retailers and manufacturers is to support that by buying RSPO-certified sustainable palm oil.
The scorecard ranks 78 manufacturers of products containing palm oil and 52 retailers on RSPO membership and compliance with reporting requirements, targets and action on using 100 percent sustainable palm oil use and policies and plans for limiting the greenhouse gas emissions from the palm oil they source.
Only 9 of the 130 companies – Ecover, Ferrero Trading, Henkel, REWE Group, Hershey, IKEA, Reckitt Benckiser, Unilever and United Biscuits – reported having policies that addressed greenhouse gas emissions of palm oil supplies. However, a further 49 companies are moving to require suppliers to comply with RSPO emission disclosure requirements.
More than two thirds of scored manufacturers and a slightly larger proportion of scored retailers have committed to 100 percent certified sustainable palm oil use by 2015.
Forty-five of the 130 companies scored were already using 100% CSPO – in total more than 2 million tonnes a year between them. But all together the 130 companies are using almost 7 million tonnes of palm oil a year – showing just how far they still have to go.
"The RSPO is at a critical stage," said Adam Harrison. "Progressive buyers of palm oil are starting to demand that growers go further than the basic RSPO standards on issues like not buying palm oil fruit from unknown sources, minimising hazardous chemical use and reducing greenhouse gases. These growers will need to be rewarded for doing so – but it is clear that most buyers are not yet even buying RSPO certified palm oil."
"WWF wants all companies to use the data available from the RSPO to start buying from the leaders in the RSPO rather than the laggards. But first of all they should be buying all of the CSPO currently available."
As a first step, WWF believes book & claim certificates are a way to send market signals in support of sustainable production so that economies of scale can be achieved that will help the entire industry move towards segregated supply chains.
However, WWF would like to see faster progress from companies toward physically segregated certified sustainable palm oil. Companies leading the demand for segregated certified palm oil (by using more than 50%) include food giants Heinz and United Biscuits, chemical company Iwata, Nutella manufacturer Ferrero Trading, and UK retailer Waitrose.
Check the following link to read/download WWF's Palm Oil Buyers Scorecard:
http://awsassets.panda.org/downloads/po_scorecard_2013_1.pdf
Source: WWF.