Event Dates: October 30, 2013
Location: Hotel Trident, Bandra Kurla Complex, Mumbai, India
Organized By: TERI-Business Council for Sustainable Development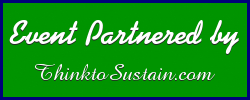 About the Event:
The CSOs' Conclave – II is the annual conference of Chief Sustainability Officers and thought leaders which brings together the emerging sustainability leaders of the Indian corporate diaspora to initiate a meaningful dialogue and action plan towards driving sustainable growth in businesses from the fore-front.
This platform aims to facilitate and foster action-oriented dialogue on specific sustainability issues in a highly interactive format to ensure effective problem solving while CSOs benefit from enriching peer discussions and pan-industry knowledge sharing.
The CSOs' Conclave – I in 2012 hosted thought leaders from over 20 organizations across various industries in the country, discussing business imperatives of driving sustainability in their organizations.
The CSOS' Conclave – II is being held at Hotel Trident, Bandra Kurla Complex, Mumbai on 30 October 2013. ThinktoSustain.com is the Media Partner for the event.
Who Should Attend?
The Conclave hosts business leaders and "change agents" who have demonstrated commitment to the cause of sustainability as a core business strategy within their organizations and are propagating the sustainability agenda globally.
Conclave Themes:
The following thematic tracks have been proposed for this year:
Energy Efficiency in Buildings
Water Management
Waste Management
Corporate Social Responsibility
Value Chain Sustainability

 
There are also two industry-focus tracks introduced for the Conclave:
Chemical Industry
Banking Financial and Services Industry

 
Event Agenda:
1. CSO Conclave Opening Plenary Session
Chief Sustainability Officers: The Emerging Leadership Paradigm
The Economics of Sustainable Development
Mainstreaming Sustainability in the Corporate DNA – A CSO's Perspective
Building Competitive Advantage

 
2. Towards a Sustainable Future: Perspectives on Measuring and Managing GHG Emissions
3. High level CSO Roundtable for Mainstreaming Sustainability in Corporate Strategy
4. Reviewing the Progress, Projects of CSO Forum 2012-13 and Looking Forward
5. Working Group Session: Parallel Tracks
Chemical Industry Roundtable
Energy Efficiency in Buildings
Social Responsibility
Sustainability in Value Chains
6. Waste Management
7. Reporting Back and Looking Forward
Registration:
Click here to check registration details and to register for the event.
About CSO Forum:
The Chief Sustainability Officers' (CSO) Forum is an active knowledge sharing platform for thought leaders from leading organizations to come forth and discuss the issues of importance to their organization with their peers. This platform engages CSOs and other senior level executives from a diverse set of industries to plan and implement co-created projects which bring value to their respective organizations. It was launched in the CSOs' Conclave – I in Lavasa (Pune) in November 2012.
About the Organizers:

TERI-Business Council for Sustainable Development is an independent and credible platform for corporate leaders to address issues related to sustainable development and promote leadership in environmental management, social responsibility, and economic performance.
With TERI's globally acclaimed leadership in the areas of its work on sustainable development and climate change for four decades, TERI-Business Council for Sustainable Development leverages TERI's knowledge base and professional expertise for the business community in India. Over the years, in partnership with World Business Council for Sustainable Development (WBCSD), TERI-BCSD has been helping Indian Business to adopt environmentally and socially responsible business strategy and planning. For more information, visit http://bcsd.teri.res.in/.
Click here to visit Event Website.
Source: TERI-BCSD.