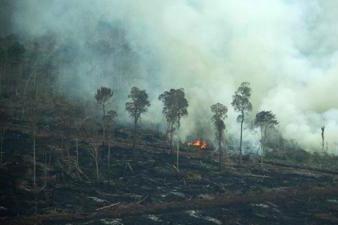 Jakarta – The palm oil sector was the single largest driver of deforestation in Indonesia between 2009-2011, accounting for about a quarter of the country's forest loss, revealed Greenpeace International in new mapping analysis published on September 3.
The analysis shows that significant deforestation took place in concessions currently owned by members of the palm oil industry's largest sustainability organization, the Roundtable on Sustainable Palm Oil (RSPO), including companies such as Singapore-based Wilmar International.
More damning is the revelation that RSPO concessions accounted for 39% of the fire hotspots on palm oil concessions in Riau during January-June 2013.
"The RSPO wants its members to be industry leaders in sustainability, but its current standards leave them free to destroy forests and drain peatland. Year after year, Indonesia's forest fires and haze wreak havoc on the region, and the palm oil sector is a main culprit. While RSPO members might have no-fire policies, the peatland they have cleared and drained is like a tinderbox – one spark is all it takes," said Bustar Maitar, Head of Greenpeace International's Indonesia Forest Campaign.
Since June, Greenpeace has contacted over 250 palm oil consumer companies asking how they ensure that their supply chains are not linked to forest destruction. Of the replies received so far, it seems that almost all companies rely solely on the RSPO to meet any 'sustainability' commitments they may have. However, as Greenpeace evidence shows, the RSPO is currently not fit for this purpose.
"The household brands we find on our supermarket shelves cannot rely on the RSPO to guarantee they are not linked to forest destruction," said Areeba Hamid, Forest Campaigner at Greenpeace International.
Traders, such as as prominent RSPO-member Wilmar, are part of the problem. They control much of the palm oil trade from Indonesia. The palm oil traded through their refineries mixes indiscriminately oil from more responsible producers with palm oil from deforestation and destruction of critical wildlife habitat and peatland.
"The only solution for palm oil consumers and producers is to go beyond the RSPO  – as some members are doing already. This is the challenge we set to the industry. Brands must find out where their palm oil comes from, and guarantee consumers around the world that forest destruction is not making its way into our products," said Hamid.
According to official Ministry of Forestry maps, Indonesia lost some 1.24 million hectares of forest over the period 2009 to 2011, equivalent to 620,000 hectares per year.
Click here to read/download the Full Report – "Certifying Destruction".
Source: Greenpeace.