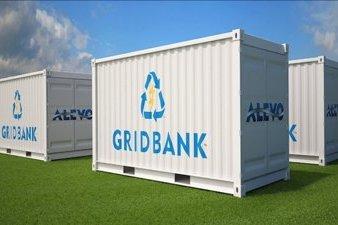 Alevo Group, the Energy Service Provider, on October 27 unveiled plans to deliver massive efficiencies to power generation globally through innovations in battery technology and data analytics. The company announced manufacturing plans in Concord, North Carolina, that will see the creation of thousands of skilled jobs, for the building of GridBanks.
GridBanks, combined with advanced analytics, can substantially cut electricity waste in existing fossil fuel generation while enabling full use to be made of wind, solar and other renewable energy sources.
Alevo will provide energy services to energy utilities worldwide through the installation of GridBanks, shipping containers of Alevo batteries that can deliver 2MW of power. When combined with the advanced Alevo Analytics, the GridBanks can be used to optimize entire grids in real time to eliminate up to 30% energy currently lost through inefficiencies and power waste. Core to Alevo's ability to deliver these energy services is a breakthrough battery technology that is completely non-flammable, and can be charged and discharged with no resting period over 40,000 times (proven in a test environment), dramatically reducing the lifetime cost of utility-grade batteries.
"Using a combination of Alevo's battery and data analytics technologies, we have the ability to cut the huge levels of waste experienced in today's electrical grids," said Jostein Eikeland, Chairman & CEO, Alevo Group. "What this means in practice is lower costs to the utilities, smaller bills for the consumer, and a reduction in greenhouse gases per megawatt that will help cost-effective coal-fired generation achieve the EPA Clean Power limits."
"Grid-connected batteries have the potential to dramatically change the way the power system is operated, and help overcome many of the challenges presented by the growing penetration of renewables. To date, the single biggest obstacle to mass deployment of battery-based energy storage has been the relatively high lifetime cost of such batteries, which has restricted the business case to a small number of niche applications," said Sam Wilkinson, Research Manager, IHS Technology.
The Alevo GridBanks will be manufactured at the firm's new Concord, North Carolina facility, with the creation of 2,500 jobs and the potential for the creation of up to 6,000 jobs as further manufacturing processes are brought to the plant. The plant provides 3.5 million sq.ft. of manufacturing and warehouse space which will be sufficient to contain planned production lines of GridBanks and the production of up to 480 GridBanks in the first year of production.
Alevo's heritage in battery technology dates back to 2004. The past decade has seen continued investment in the core battery technology and in software development of the Alevo Analytics Suite. The investment in the combined research and development, together with the acquisition and fit-out of the manufacturing supply chain, represents a start-up investment of over $ 1 billion that has been met through private investments and equity funds.
Alevo launches with two important national level contracts: China-ZK and RBM in Turkey. Alevo and China-ZK, a 51% private funded body that coordinates energy infrastructure in China, have signed a Strategic Agreement to promote and commercialize Alevo's technology products and services in China. Meanwhile, in Turkey, Alevo with TSG has signed a joint venture distribution partnership deal.
Harrison Wellford, Chairman, Welford Energy, said, "It is difficult to distinguish yourself in an industry already so highly populated. However, quality and innovation tell, and Alevo's technology offers both in abundance. Out of a research project in Germany has come a totally new non-flammable battery technology with the ability to be charged and discharged tens of thousands of times. Alevo GridBanks and Analytics technology are set to become part of the electrical grid furniture on a global basis."
Dr. Deng Xu, Chairman of China ZK, commented, "Today, China is the largest consumer of electricity in the world and as the Chinese economy continues to grow, so too will its demand for electricity. China has chosen the Alevo GridBank technology to improve not only the efficiency of power generation and distribution, but the effectiveness as well. Specifically, we will be able to significantly reduce production costs, improve the efficiency of existing capacity, and thus be able to provide better service to our end-users and reducing pollution. It is with great honour that we partner with Alevo on its new production facility in Concord, NC, to continue North Carolina's rich manufacturing history."
"Turkey has the second highest population in Europe and one of the fastest growing economies in the entire region. It could be argued that the greatest challenge to economic growth is high energy costs, to include power generation and distribution. RBM, along with our partner TSG, has chosen to utilize Alevo's GridBank technology to considerably reduce the cost and improve the delivery of electricity throughout Turkey. We are excited for the citizens of Turkey," said Mehmet Celebi, Founding Partner, RBM.