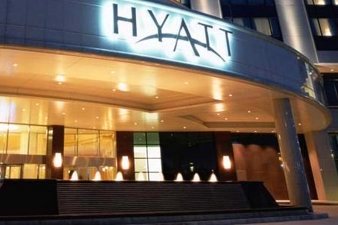 Chicago – In conjunction with the release of its 2013-2014 Corporate Responsibility Report, Hyatt Hotels Corporation (NYSE:H) unveiled on August 28 an aggressive set of environmental goals for the year 2020, all designed to strengthen Hyatt's collective ability to collaborate, inspire and further its commitment to environmental stewardship.
Hyatt, which is already an industry leader for tracking comprehensive global energy and water data since 2006, is significantly expanding the scope of its existing sustainability initiatives and will continue to focus strongly on measuring and reporting progress.
Known as the Hyatt 2020 Vision, these new, ambitious environmental goals define a suite of measureable and actionable targets across three focus areas – use resources thoughtfully, build smart, and innovate and inspire – all with the goal of bringing together Hyatt hotels around the globe to create a more sustainable future.
"The conservation efforts undertaken by Hyatt hotels around the world since formalizing our approach several years ago have had a real impact, resulting in major reductions in greenhouse gas emissions and water and energy usage by property across our portfolio," said Brigitta Witt, Vice President of Corporate Responsibility for Hyatt. "With five years and significant momentum under our belt, we saw the opportunity to further our commitment to environmental stewardship in a manner that fundamentally touches every aspect of our business, from the way our hotels are built and operated, to the way we collaborate with our global supply chain, to the way we influence change through the passion and commitment of our colleagues around the world."
Setting Focus Areas
Born from robust analysis and research, the Hyatt 2020 Vision focuses on significantly expanding Hyatt's strategic scope, especially in areas where past efforts have not had as much of an impact due to occupancy fluctuations and rapid business growth in developing markets.
With this in mind, the Hyatt 2020 Vision focuses on three strategic priorities, which were specifically selected not only for their ability to help guide Hyatt's environmental performance, but also for their ability to touch every Hyatt colleague and community around the globe.
Use Resources Thoughtfully: Hyatt is committed to examining how its hotels source, consume and manage natural resources to serve their guests. Hyatt will identify ways for Hyatt hotels to reduce energy consumption and greenhouse gas emissions, use less water, produce less waste and make more environmentally responsible purchasing decisions. As a highlight, Hyatt has set the goal to reduce water use per guest night by 25 percent, and within water-stressed areas, Hyatt has set a 30 percent reduction goal. Additionally, Hyatt is elevating its recycling efforts by challenging every hotel to reach a 40 percent diversion rate, as well as by setting a recycling goal for renovation waste.
Build Smart: Hyatt will work closely with stakeholders to increase the focus on building more efficient, environmentally conscious hotels across the enterprise. Beginning in 2015, all new construction and major renovation projects contracted for Hyatt managed hotels will be expected to follow enhanced sustainable design guidelines. Hyatt will lead this initiative by mandating that all new construction and major renovation projects for wholly owned full service hotels and resorts achieve LEED certification, or an equivalent certification.
Innovate and Inspire: This goal reflects Hyatt's commitment to be a catalyst for bringing more hearts, hands and minds to the table to help advance environmental sustainability around the world. This includes Hyatt's commitment to create a funding mechanism to support the innovation, ideation and acceleration of sustainable solutions within its hotels that can be replicated across the Hyatt portfolio, as well as the broader hospitality industry.

Reporting Progress
Hyatt's 2020 goals are being debuted in conjunction with the launch of Hyatt's 2013-2014 Corporate Responsibility Report, which provides a snapshot of the company's most recent corporate responsibility efforts and achievements.
Major milestones reported include:
The launch of Ready to Thrive, Hyatt's global corporate philanthropy program focused on literacy and career readiness, which included a $ 750,000 investment in career readiness programs in Brazil.
Building 11 libraries and supporting reading and writing programs in 30 schools through a new partnership with Room to Read, impacting 30,000 students in India.