"Collecting global loss data that are comparable and complete is a major challenge. Climate and weather services are working with disaster-impact researchers and data centers to meet this challenge. This partnership is producing analyses that support practical decisions on reducing the human consequences of disasters, for example, by investing in early warning systems or targeting the most vulnerable communities," said CRED Director, Prof. Debarati Sapir.
The United Nation's Global Assessment Report on Disaster Risk Reduction 2013 concluded that direct and indirect losses from natural hazards of all kinds have been underestimated by at least 50 per cent because of the data collection challenges. Because better reporting of disaster impacts is vital for strengthening disaster risk reduction, the international community should help vulnerable countries improve their capacity for developing and maintaining high-quality damage and loss databases.
Another challenge for users of risk information is the changing characteristics (frequency, location, severity) of weather-, climate- and water-related hazards. Natural climate variability is now exacerbated by long-term, human-induced climate change, so that yesterday's norms will not be the same as tomorrow's.
The WMO-CRED-Louvain report seeks to raise awareness of these and other challenges to collecting and analyzing disaster risk information. It presents a worldwide analysis of extreme weather, climate and water events drawing on the Emergency Events Database (EM-DAT), compiled by CRED. The Atlas compares the reported impacts of meteorological, climatic and hydrological extremes (as categorized by CRED) on people and economies at both the global and regional levels.
In addition to global statistics and maps, the Atlas also provides details on disasters at the regional level.
Africa: From 1970 to 2012, there were 1,319 reported disasters caused the loss of 698,380 lives and economic damages of US $ 26.6 billion. Although floods were the most prevalent type of disaster (61 per cent), droughts led to the highest number of deaths. The severe droughts in Ethiopia in 1975 and in Mozambique and Sudan in 1983-1984 caused the majority of deaths. Storms and floods, however, caused the highest economic losses (79 per cent).
Asia: Some 2,681 disasters were reported in the 1970-2012 period, causing the loss of 915,389 lives and economic damages of US $ 789.8 billion. Most of these disasters were attributed to floods (45 per cent) and storms (35 per cent). Storms had the highest impact on life, causing 76 per cent of the lives lost, while floods caused the greatest economic loss (60 per cent). Three tropical cyclones were the most significant events, striking Bangladesh and Myanmar and leading to over 500,000 deaths. The largest economic losses were caused primarily by disasters in China, most notably by the 1998 floods.
South America: From 1970 to 2012, South America experienced 696 reported disasters that resulted in 54 995 lives lost and US $ 71.8 billion in economic damages. With regard to impacts, floods caused the greatest loss of life (80 per cent) and the most economic loss (64 per cent). The most significant event during the period was a flood and land and mudslide that occurred in Venezuela in late 1999 and caused 30,000 deaths. This single event skews the loss of life statistics significantly for the entire region.
North America, Central America and the Caribbean reported 1,631 disasters that caused the loss of 71,246 lives and economic damages of US $ 1,008.5 billion. The majority of the reported disasters in this region were attributed to storms (55 per cent) and floods (30 per cent). Storms were reported to be the greatest cause of lives lost (72 per cent) and of economic loss (79 per cent).
The South-West Pacific region experienced 1,156 reported disasters in 1970-2012 that resulted in 54,684 deaths and US $ 118.4 billion in economic loss. The majority were caused by storms (46 per cent) and floods (38 per cent). The most significant reported disasters with regard to lives lost were tropical cyclones, mainly in the Philippines, including the event of 1991, which killed 5,956 people. The 1981 drought in Australia caused US $ 15.2 billion in economic losses and the 1997 wildfires in Indonesia caused nearly US $ 11.4 billion in losses.
In Europe, 1,352 reported disasters claimed 149,959 lives and caused US $ 375.7 billion in economic damages. Floods (38 per cent) and storms (30 per cent) were the most reported cause of disasters, but extreme temperatures led to the highest proportion of deaths (94 per cent), with 72,210 lives lost during the 2003 western European heatwave and 55 736 during the 2010 heatwave in the Russian Federation. In contrast, floods and storms accounted for most of the economic losses during the period.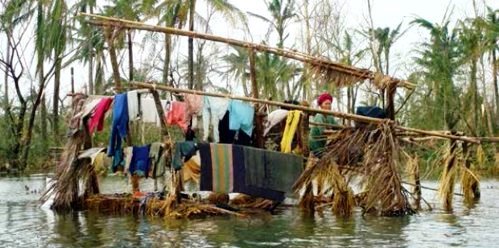 Click here to read/download the Full Report.
Source: WMO.