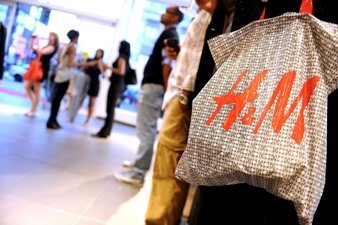 On April 10, H&M published its twelfth Conscious Actions Sustainability Report. Some of the highlights during 2013 are the launch of H&M's roadmap for fair living wages, the first closed loop collection made with recycled material from collected garments and a doubling of the share of more sustainable cotton in the last two years.
"We take a long-term view on our business, and investing in our sustainability means investing in our future. This gives us the opportunity to contribute to the development of communities around the world, and better lives for millions of people," says Karl-Johan Persson, CEO at H&M.
The report contains a wide range of achievements covering every stage of H&M's product lifecycle, from design to how the customers take care of their garments.
Some of the achievements from last year are:
Fair living wage roadmap launched, enabling suppliers to pay higher wages to their workers.
Close to 100% of H&M stores worldwide participate in their global garment collecting initiative with the goal to create a closed loop for textiles. 3,047 tonnes of no longer wanted garments were collected.
First closed loop products launched, made with 20% recycled material from collected garments.
H&M started to implement the game changing water strategy developed together with WWF.
H&M doubled the share of more sustainable cotton in the last two years and they are on target with 15.8% of the cotton being certified organic, Better Cotton or recycled. The goal is that all cotton should come from more sustainable sources by 2020 at the latest.
More sustainable fabrics now represent 11% of H&M products' total material use – up from 9.1% in 2012.
H&M launched its first products made with organic leather and organic silk.
The amount of recycled polyester used in H&M's garments is equivalent to 9.5 million PET bottles.
H&M was the first brand to sign the Accord on Fire and Building Safety in Bangladesh.
894,975 garment workers in Bangladesh and India educated about their rights since 2008.
Clevercare label launched, providing guidance for conscious garment care.
14% less electricity used per H&M store sqm since 2007. The goal is -20% by 2020.
340 million fewer litres of water used in denim production compared to last year.
"H&M again sets the bar in sustainability reporting. It's commitment to sustainability and the transparency on targets and achievements serve as an inspiration for other brands in this sector. Considering the fact that H&M sources from 1,900 factories reaching 1,6 million people, the potential for change is immense", says Janet Mensink, International Programme Coordinator Cotton & Textiles for Solidaridad Network.
The report and a summary of its highlights are available to read and download at www.hm.com/consciousactions2013
Source: H&M.
About H&M
H & M Hennes & Mauritz AB (H&M) is a Swedish multinational retail-clothing company, known for its fast-fashion clothing for men, women, teenagers and children, and comprises six independent brands: H&M, COS, Monki, Weekday, Cheap Monday and & Other Stories. H&M exists in 53 countries and as of 2013 employed around 116,000 people. It had 2,629 stores at the end of August 2012. It is ranked the second largest global clothing retailer. The design team in the company's Sweden office controls the steps of production, from merchandise planning to establishing specifications, and production is outsourced to approximately 800 factories in Europe and Asia. For more information, visit www.hm.com.