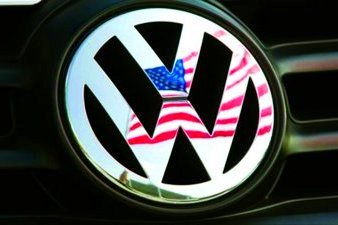 Herndon, Virginia – Volkswagen Group of America, Inc. (VWGoA) released its 2013 Corporate Social Responsibility Report, titled "At Home in America", on March 12. The report provides an update on the Volkswagen family's environmental sustainability initiatives, commitment to serving U.S. communities, and efforts to create a diverse and inclusive workplace.
"Volkswagen Group of America is united not only by our devotion to building quality vehicles, but also by our commitment to doing what's right for the environment, our communities and our employees," said Michael Horn, President and CEO, Volkswagen Group of America, Inc. "As we have continued to expand our presence in the United States, our 2013 CSR report shows how we have also increased our efforts to reduce our ecological footprint, give back to our communities, and create a rewarding and diverse workplace."
As part of its long-term growth strategy, Volkswagen Group has invested $4 billion in North America since 2008 and earmarked an additional $7 billion in investments by 2018. These investments will enable the company to further deepen its roots in the United States, create new employment opportunities, and reach its goals on eco-mobility, environmental stewardship and corporate citizenship.
Highlights detailed in the 2013 CSR report include:
Environmental Sustainability.

Cutting-edge technologies have enabled Volkswagen to progress toward carbon-neutral vehicles, including electric cars, and fuel-efficient, low-emission hybrid and TDI® clean diesel vehicles. In the 2013, Volkswagen and Audi accounted for 75 percent of the U.S. market for clean diesel vehicle sales, enabling owners nation-wide to achieve up to 30 percent improved fuel economy compared to gasoline vehicles.
In 2013, the LEED platinum-certified Volkswagen Chattanooga factory earned the U.S. Environmental Protection Agency's (EPA) "Green Power Leadership" Award, making it one of only four companies to receive the award for on-site green power generation. Volkswagen Chattanooga's 33,000 solar panels generate 13.1 gigawatt-hours of electricity each year – enough to power 1,200 homes annually.
In addition, the plant conserves 720,000 kilowatts of energy annually through insulation made of recycled materials and rock wool, and has saved 6 million gallons of water, to date, through rainwater collection.
Serving U.S. Communities.

In 2013, Volkswagen Group of America donated nearly $10 million in funding and in-kind donations to organizations across the nation, and provided more than $7 million to support education programs in Tennessee and Virginia. Volkswagen Group employees at locations across the country have also devoted both funds and significant volunteer hours to a variety of causes, including mentoring youth, supporting veterans, providing disaster relief efforts – including helping to rebuild Haiti – and raising awareness for people with disabilities.
Some examples of Volkswagen Group of America's non-profit partnerships include the American Red Cross, Best Buddies International, Boys and Girls Club of America, Habitat for Humanity, JDRF (Juvenile Diabetes Research Foundation) and the International Organization on Arts and Disability (VSA), among others.
Promoting a Diverse and Inclusive Workplace.

Establishing a healthy and diverse workplace environment is a critical component of Volkswagen Group of America's business strategy. As part of this commitment, Volkswagen became the first automotive company to sign the National Association of Minority Automobile Dealer's "15% For Success" in 2013, pledging to improve the percentage of car dealership ownership of ethnic minorities. The company has also established a robust Supplier Diversity program, achieving a 10 percent target for inclusion of women and ethnic minorities in the Volkswagen supplier network.
For additional information on Volkswagen Group of America's Social Responsibility Initiatives, visit www.VolkswagenGroupAmerica.com.
Source: Volkswagen.
About Volkswagen Group of America, Inc.
Volkswagen Group of America, Inc. (VWGoA) is a wholly-owned subsidiary of Volkswagen AG, one of the world's leading automobile manufacturers and the largest carmaker in Europe. It operates a manufacturing plant in Chattanooga, Tennessee and houses the U.S. operations of a worldwide family of distinguished and exciting brands including Audi, Bentley, Bugatti, Lamborghini and Volkswagen, as well as VW Credit, Inc. Founded in 1955, the company's headquarters are in Herndon, Virginia, has approximately 6,000 employees in the United States, and sells its vehicles through a 992-strong dealer network. For more information, visit www.volkswagengroupamerica.com.