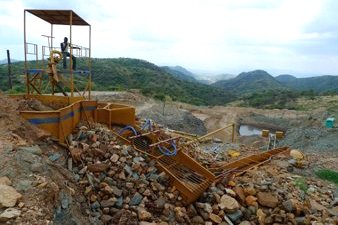 Kampala – Uganda's nascent mining industry could do more harm than good for indigenous peoples unless the government makes reforms and mining companies start respecting rights, Human Rights Watch said in a report released on February 3. Uganda's government has promoted private investment in mining in the remote northeastern Karamoja region to bring economic development, but should implement reforms to respect the rights of indigenous peoples to determine how their lands are used.
The 140-page report, "'How Can We Survive Here?' The Impact of Mining on Human Rights in Karamoja, Uganda", examines the conduct of three companies in different stages of the mining process: East African Mining, Jan Mangal, and DAO Uganda. Human Rights Watch found that companies have explored for minerals and actively mined on lands owned and occupied by Karamoja's indigenous peoples. But the Ugandan government, in partnership with the private sector, has excluded customary land owners from making decisions about the development of their own lands and has proceeded without their consent. Human Rights Watch also found that donors, including the World Bank, have failed the people of Karamoja by working to enhance the burgeoning mining sector without addressing indigenous peoples' rights, including the right to development.
"Mining development could be a real boon to the people of Karamoja, bringing jobs and better security, services, and basic infrastructure," said Daniel Bekele, Africa Director. "However, it is still unclear how the people of Karamoja will benefit, if at all, from mining, or how the government intends to protect their rights during this process."
Karamoja has long been thought to contain considerable mineral deposits and appears on the verge of a mining boom. Several extractives companies have gone to Karamoja in the past two years seeking natural resources, particularly gold and marble. The Ugandan government has massively accelerated licensing of companies to carry out exploration and mining operations – a more than 700 percent increase between 2003 and 2011. But the government's ability to support and educate affected communities and inspect and monitor the companies' work lags far behind.
While foreign investment in Uganda has escalated in recent years, development of the oil sector in the western part of the country has renewed concerns about political patronage, the ability of civil society to critique government development plans, and corruption. The mining in Karamoja raises similar concerns.
The report is based on research in Uganda from May to November 2013, including 137 interviews, 61 of them with people living in areas where companies are exploring for minerals or actively mining. Human Rights Watch also interviewed representatives of the companies, the central and local governments, the army, national and international non-governmental organizations, and donor governments and agencies.
Karamoja has a population of 1.2 million, many of whom are indigenous peoples. Those interviewed by Human Rights Watch described how basic survival remains very difficult. The region has a history of conflict, the highest rates of childhood malnutrition in Uganda, and periodic food insecurity. People have faced generations of colonial and state-sponsored discrimination, together with externally imposed "development" and the seizure of their lands for wildlife conservation and hunting.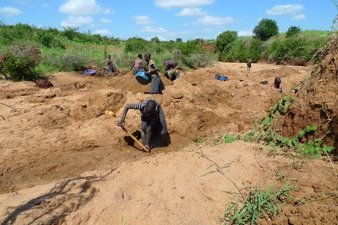 Over the last decade, the Ugandan army's brutal campaign of forced disarmament to rid the region of guns and reduce raids between neighboring groups has caused death and loss of livestock. With the increasing encroachment on their land over recent generations and increasingly extreme weather patterns, families have turned to artisanal gold mining for cash, intensifying community concerns about how large-scale mining will affect their survival.
East African Mining, the Ugandan subsidiary of Jersey-registered East African Gold, began exploring for gold in 2012 in Kaabong without consulting the indigenous land owners, said Human Rights Watch. Instead, the first people knew of the company's interest in their lands was when employees and soldiers entered their lands and began taking soil samples from their gardens and even within their homes, prompting fear and mass confusion. While the company began holding community meetings months into its exploration, community members have continued to express confusion as to what the company is doing, how it may impact on them, and how they may benefit.
"Eight men in yellow uniforms just entered my garden and started excavating – they said nothing," said one man from Lois parish, in Kathile, Kaabong. "They just started digging and taking my soil. I just looked at them. I was afraid. So, I couldn't get near them. They stepped on some of our crops and damaged them. I asked them, 'Why are you destroying our crops?' They said, 'It will be good for your survival…' We were afraid and feared to stop them. They moved around like a rooster, like this was their land."