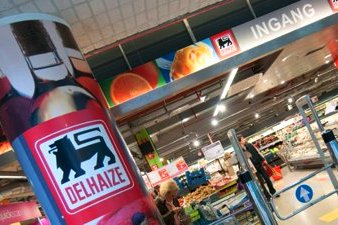 Brussels – Belgium-based international retailer Delhaize Group has become the first supermarket chain in the world to commit to a No Deforestation Policy with full traceability. The move follows public pressure in Belgium and just three days after Greenpeace launched a global campaign demanding an end to forest destruction for palm oil.
"This is a win for consumers in Belgium and around the world demanding products free from forest destruction. Delhaize joins a growing list of companies, such as L'Oréal, Ferrero and Unilever that are listening to the movement demanding forest-friendly products. Greenpeace demands other companies such as P&G and Colgate Palmolive follow their lead," said Areeba Hamid, forest campaigner at Greenpeace International.
Delhaize cannot currently guarantee that its products are free from forest destruction, which is pushing Sumatran tigers, numbering as few as 400 in the wild, to the brink of extinction. But in a first for any supermarket chain in the world, the company has committed to ensuring its suppliers use 100% traceable palm oil by the end of 2015, and deforestation-free palm oil for 80% of its products by 2018.
The 2018 timeline for removing deforestation from the majority of its products is a more ambitious milestone than those of companies like L'Oréal and Unilever.
"Delhaize's policy recognises that action must be taken before 2020 and that the RSPO certification scheme cannot sufficiently break the link between palm oil and forest destruction. The global movement demanding forest-friendly palm oil will expect other companies to rise to the challenge and commit to No Deforestation," said Jonas Hulsens, campaigner at Greenpeace Belgium.
Greenpeace Belgium engaged Delhaize in October 2013 and mobilised 25,000 people to send e-mails to the company demanding it uses forest-friendly palm oil.
Delhaize Group is an international food retailer with more than 3,000 outlets in 10 countries. Among Delhaize's supermarket chains are Delhaize (Belgium and Luxembourg), Food Lion, Hannaford's and Harvey's (USA) and Super Indo (Indonesia).
The announcement represents an industry in transformation. This announcement from Delhaize follows a commitment from US-based food manufacturer Kellogg, which if implemented would remove deforestation from its supply chains, with traceability down to plantation level by the end of 2015. Wilmar International, the world's biggest palm oil trader, committed to forest protection in December 2013, while brands like L'Oréal, Unilever, Ferrero and Nestlé have also made commitments to No Deforestation.
Source: Greenpeace.
Notes:
The Tiger Manifesto was launched 12 February to demand forest-friendly palm oil: www.protectparadise.org