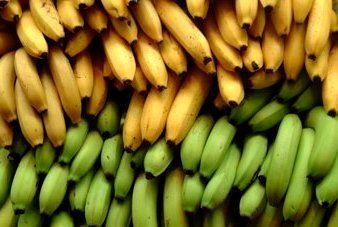 The Fairtrade Foundation has launched a new campaign Make Bananas Fair on February 24 asking the UK public to help end the supermarket price wars, including a petition asking the government to urgently step in and investigate the impact of retailer pricing practices.
As part of the campaign, a new report called "Britain's Bruising Banana Wars" has been released which reveals that, in the past 10 years, the UK supermarket sector has almost halved the shelf price of loose bananas while the cost of producing them has doubled. Consumers now typically pay 11p for a loose banana, shipped from the other side of the world, compared with 18p a decade ago, while a loose English apple grown in the UK now costs 20p. Meanwhile living costs for banana farmers and workers in the three countries that provide 70 per cent of the UK's bananas – Colombia, the Dominican Republic and Ecuador – have rocketed by 85 per cent, 350 per cent and 240 per cent respectively.
The report further exposes the real impact British supermarket price wars are having on banana farmers and workers and their families. The resulting drop in export prices for bananas in producing countries means an ever-tightening squeeze on what producers earn for their bananas. This, combined with escalating production and living costs, means many farmers and workers' standards of living have progressively worsened in the past decade.
"Small farmers and plantation workers are the collateral damage in supermarket price wars. The poorest people are bearing the cost of our cheap bananas and they have to work harder and harder as what they earn is worth less and less in their communities. As a result, a product that is worth billions of pounds in global trade relies on poverty-level income for the people who grow it," says Fairtrade Foundation Chief Executive Michael Gidney.
The Fairtrade Foundation report argues that as bananas are the fourth most important food crop in the world and one of the most valuable agricultural commodities in global trade, it is wrong that they do not guarantee a sustainable living for all the people involved in producing and supplying the market.
"With my hand on my heart, the price that we get for our produce is not enough for us to sustain production over here. It is too low for us to have a good quality of life, or at least a decent one. We don't see real profit from the effort we put in, it's frustrating," say Albeiro Alfonso Cantillo, nicknamed Foncho, the Colombian banana farmer who is now in the UK to spearhead the campaign on behalf of banana farmers globally.
The unrelenting downward pressure on banana prices has driven a shift in many banana producing countries towards job losses, the casualisation of labour, and the marginalisation of smallholder producers. It makes it much harder for farmers and workers to achieve the improvements they badly need in wages, access to services like education and healthcare and improved housing, as well as environmental sustainability in banana production.
To accompany the report, the Fairtrade Foundation commissioned the Ethical Consumer Research Association (ECRA) to conduct research to score retail practice in a Supermarket Scorecard. Retailers were ranked using a methodology that draws on the three pillars of sustainability: social, economic and environmental good practice, with an added benchmark of transparency of information about their banana supply chains.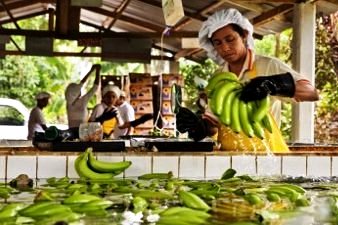 Though The Co-operative, Sainsbury's and Waitrose, which all source 100 per cent Fairtrade bananas, emerge more positively than other supermarkets from the scoring, the Foundation says no retailer can afford to be complacent. The ECRA research reveals that when it comes to the economics of the supply chain, supermarkets need to initiate change which ensures that all banana farmers and workers are always paid sustainable costs of production and living wages, in order to deliver a truly fair and sustainable banana industry.
The report acknowledges that Fairtrade's engagement with supermarkets has been hugely positive, since it began 20 years ago with the first three products in 1994.  Bananas have been a Fairtrade success story with Fairtrade banana producers now benefitting enormously as one in three bananas sold in the UK is Fairtrade and three major supermarket have committed to selling only Fairtrade bananas . Fairtrade provides a vital safety net for these banana farmers and workers. But the report says intense price competition between supermarkets is preventing progress towards making the whole banana industry fair and outlines a series of recommendations to the various stakeholders.
Britain's Bruising Banana Wars urges:
1. Supermarkets to use their dominant position in banana supply chains responsibly, reflecting the true cost of production in their practices by paying a fair price to farmers and workers, as retailers do in other European countries. The retail price of bananas has increased in France, Italy and Germany by 10 per cent, 3.9 per cent and 7.2 per cent respectively.
2. Vince Cable, Secretary of State in The Department for Business, Innovation and Skills (BIS), to co-ordinate across government departments to investigate retailer pricing on bananas and evaluate its impact on the long-term interests of banana producers and UK consumers. Campaigners across the UK are also signing a petition to the Business Secretary to ask for action.