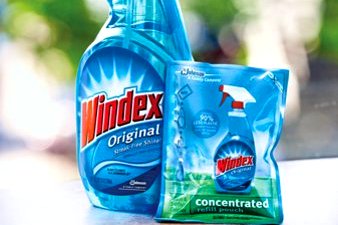 Racine, Wisconsin – SC Johnson released its 2013 annual public sustainability report in October. The report shares the latest information on the company's ongoing work to achieve its 2016 environmental goals by using more renewable energy, cutting greenhouse gas emissions, minimizing landfill waste and developing innovative products that use fewer resources and require less packaging. SC Johnson has reduced its global manufacturing waste by 62 percent and increased its use of renewable energy to 30 percent in pursuit of these goals*.
"This report showcases our commitment to sustainable development and to serving the greater good," said Fisk Johnson, Chairman and CEO of SC Johnson. "As a family company that has been around for 127 years, we have always believed that we have both an opportunity and an obligation to better the communities in which we operate. We are constantly challenging ourselves to find ways to reduce our environmental footprint while continuing to produce the high-quality products that consumers expect and deserve."
SC Johnson's commitment to sustainability is shared across all divisions of the company – it is focused on making a positive impact at every stage of product development. This starts with responsible supply chain decisions and continues long after the purchase date since many of its products feature recyclable packaging. The company's investment in helping consumers make green choices through continuous education and authentic engagement brings this commitment full circle.
Sustainability Initiatives Showcase Commitment to People, Planet and Products
Starting with its supply chain, SC Johnson renewed its investment in 2013 with the U.S. Agency for International Development (USAID) and the Norman Borlaug Institute for International Agriculture at Texas A&M University. Together, SC Johnson and its partners hope to strengthen and expand the capacity of local farming cooperative organizations in Rwanda and to further increase production and quality of the pyrethrum (py) they farm – a natural insecticide used in well-known products such as Raid® and Baygon®.
Through Green Choices and @GreenChoices – SC Johnson's website and Twitter account that provide eco-friendly tips and resources – the company engages with consumers on how to increase sustainable behaviours such as recycling and saving energy. SC Johnson launched several products on the Green Choices Marketplace this past year that offer consumers easy ways to reduce their environmental impact. Products include the Smart Twist® Cleaning System, a refillable system for concentrated cleaners, and Ziploc® Brand Compostable Bags for use in commercial composting programs.
SC Johnson recognizes the important role that companies play both individually and with industry partners in advancing sustainable development. The company sponsored the Regeneration Roadmap, an initiative by GlobeScan and SustainAbility, to create an integrated and comprehensive plan for sustainable development for the next generation. The Roadmap focuses on the ways that the private sector can improve its overall sustainability strategy, increase its credibility and deliver results at greater speed and scale.
In its efforts to serve the greater good, the company invests in disease prevention programs in Southeast Asia and Africa and provides ongoing support to local residents. In 2012/2013, SC Johnson launched a comprehensive campaign in Kuala Lumpur, Malaysia that included a Facebook alert campaign, an education competition for 100 schools and a community dialogue with expert panelists. The company was able to reach thousands of families and leveraged influential media outlets to amplify the dengue prevention dialogue. SC Johnson also collaborates with the Bill & Melinda Gates Foundation in the fight against malaria.
SC Johnson continues to make life better for communities around the world through its many philanthropic contributions. It has donated $3 million in product donations to those in need, including victims of Hurricane Sandy. The company is also committed to expanding the arts, and it pledged $ 5 million to the Smithsonian's National Museum of American History in Washington, D.C., to assist in the development of the "American Enterprise" exhibition as well as a state-of-the-art conference center. The center will serve as a venue for educational outreach.
2013 SC Johnson Sustainability Report Highlights
For more than 20 years, SC Johnson has set five-year goals to guide its approach to sustainability, and it shares progress and results on a regular basis.
Highlights include:
Smaller Footprint: SC Johnson has invested in 10 major renewable energy initiatives around the world over the last decade. With the installation of two new 415-foot-tall wind turbines at its largest global manufacturing facility, the company cuts 6,000 metric tons of greenhouse gas emissions annually.
Less Waste: SC Johnson has recycled roughly 8.5 million pounds of waste at its largest global manufacturing facility in Mt. Pleasant, Wisconsin, and seven SC Johnson sites are now zero landfill**.
Better Lives: For years, SC Johnson has educated Filipinos about fighting dengue with its Baygon® and OFF!® products. Through its work, the company has reached 1.65 million households, visited more than 4,000 communities and conducted more than 1,500 dengue educational caravans in the Philippines.
Winning Products: SC Johnson's newest concentrated cleaners – also available on the Green Choices Marketplace – feature a 63 percent reduction in plastic compared to a standard spray bottle. The company has also saved 900,000 pounds of resin globally by using new Mr. Muscle® bottles.
Check the following link to read/download SC Johnson's 2013 Sustainability Report:
www.scjohnson.com/report
Source: SC Johnson.
Notes:
* Global waste reduction is measured against a 2000 baseline, and renewable energy is measured against a 2011 baseline.
** SC Johnson defines zero landfill as elimination of materials sent to landfill through reuse and recycling and, ultimately, without the use of incineration.
About SC Johnson
SC Johnson is a family company dedicated to innovative, high-quality products, excellence in the workplace and a long-term commitment to the environment and the communities in which it operates. Based in the USA, the company is one of the world's leading manufacturers of household cleaning products and products for home storage, air care, pest control and shoe care. It markets such well-known brands as GLADE®, KIWI®, OFF!®, PLEDGE®, RAID®, SCRUBBING BUBBLES®, SHOUT®, WINDEX® and ZIPLOC® in the U.S. and beyond, with brands marketed outside the U.S. including AUTAN®, TANA®, BAMA®, BAYGON®, BRISE®, KABIKILLER®, KLEAR®, MR MUSCLE®, and RIDSECT®. The 127-year-old company, that generates $ 9 billion in sales, employs nearly 13,000 people globally and sells products in virtually every country around the world. For more information, visit www.scjohnson.com.