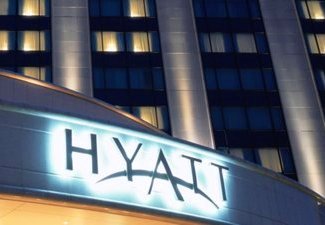 Chicago – Hyatt Hotels Corporation (NYSE: H) has launched its 2012 Corporate Responsibility Report Update, highlighting  critical advances in environmental sustainability in support of the company's signature corporate responsibility platform, Hyatt Thrive.
The Global Reporting Initiative (GRI) 3.1-compliant companion piece serves as a mid-cycle reporting update to Hyatt's full 2011 corporate responsibility report. Together, the reports offer a two-year snapshot of the company's work to make local communities places where Hyatt associates are proud to work, where guests want to visit, where neighbors want to live, and where hotel owners want to invest.
"2012 offered opportunity to build on our strong foundation and extend best practices within our global network and across the hospitality industry," said Brigitta Witt, Vice President of Corporate Responsibility, Hyatt. "With strong central leadership and new tools that promote transparency and agility, we are better equipped than ever to make a positive, local impact in communities around the world."
Continued focus on environmentally sustainable best practices resulted in efficiency gains across Hyatt's operations. Compared to its baseline [1], Hyatt achieved an 11 percent reduction in energy consumption per square meter, a 13 percent reduction in greenhouse gas emissions per square meter, a 9 percent reduction in water consumption per guest night, and a 3 percent reduction in waste per guest night. As a highlight, the number of properties sourcing power from renewable sources like solar, wind and onsite geothermal installations doubled from 2011 to 2012, contributing to the reduction in greenhouse gas emissions.
Hyatt also played a leading role in establishing consistency and improving transparency in environmental reporting across the hospitality industry. The company teamed up with the World Travel & Tourism Council, the International Tourism Partnership, and other hospitality companies to establish the industry wide Hotel Carbon Measurement Initiative (HCMI) standard, a uniform methodology for the hotel industry to report greenhouse gas emissions. In 2012, Hyatt began integrating the HCMI framework into Hyatt EcoTrack, the company's in-house system for tracking environmental data.
Additionally, the 2012 report update highlights industry leading programs and best practices that fulfill the Hyatt Thrive vision. Key initiatives include:
Establishing a Formal Corporate Responsibility Council – Chaired by Hyatt's Chief Financial Officer and led by Brigitta Witt, this cross-functional team taps into multiple disciplines to build business value for the company and generate positive impacts for society and the environment.
Instituting Global Standards and Local Tools – Hyatt strengthened its responsible supply chain practices with the global implementation of its Supplier Code of Conduct and by working with World Wildlife Fund to evaluate its seafood purchases outside of the U.S. Hyatt also established a new Disaster Relief Protocol, enhancing its agility and consistency in responding philanthropically when disasters strike the communities where its associates work and live.
Improving Transparency and Accuracy in Reporting – Hyatt expanded the tracking of its environmental footprint by integrating its managed Hyatt House and Hyatt Place properties into its environmental data set. The company also enhanced tracking and reporting requirements regarding corporate giving, volunteerism and guest donations.
Extending Associate and Local Community Engagement – Employee network groups at Hyatt have grown from five to 26 chapters since their launch in 2011. Hyatt associates also dedicated more than 59,000 hours to local volunteerism, extending and enhancing the impact of the more than $ 5.6 million in charitable gifts from the Hyatt Foundation.
Hyatt plans to issue its next complete report, containing standard disclosures from the GRI Sustainability Reporting Guidelines, in calendar year 2014.
About Hyatt Thrive
Launched in 2011, Hyatt Thrive formalized Hyatt's long-standing commitment to its people, the communities where it operates and the planet. Along with establishing targets for reducing the company's environmental impact, Hyatt Thrive sets a global vision of promoting responsible business practices across four key areas: environmental sustainability, education and personal advancement, economic development and investment, and health and wellness.
Earlier this year, Hyatt expanded is corporate responsibility commitment with the launch of Ready to Thrive, a multi-year philanthropic commitment to education initiatives in Hyatt communities around the world. With a focus on literacy and career readiness, Ready to Thrive supports community organizations and programs and offers a launching point for individuals to learn and develop the critical skills needed to professionally advance.
For more information on Hyatt Thrive, visit www.HyattThrive.com.
Source: Hyatt Hotels Corporation.
Notes:
[1] Baseline years are 2006 for energy, greenhouse gas emissions and water, and 2010 for waste.
About Hyatt Hotels Corporation
Hyatt Hotels Corporation, headquartered in Chicago, is a leading global hospitality company with a proud heritage of making guests feel more than welcome. The Company's subsidiaries manage, franchise, own and develop hotels and resorts under the Hyatt®, Park Hyatt®, Andaz®, Grand Hyatt®, Hyatt Regency®, Hyatt Place® and Hyatt House®brand names and have locations on six continents. Hyatt Residential Group, Inc., a Hyatt Hotels Corporation subsidiary, develops, operates, markets or licenses Hyatt ResidencesTM and Hyatt Residence ClubTM. As of June 30, 2013, the Company's worldwide portfolio consisted of 524 properties in 46 countries. For more information, visit www.hyatt.com.